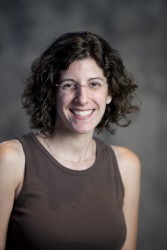 Melisa Klimaszewski
Melisa Klimaszewski, assistant professor of English at Drake, is participating in the "The Victorians and Architecture" workshop at Cambridge University in England from July 13-15.
The workshop is part of the "Past Versus Present" conference, a joint meeting of the British Association for Victorian Studies and the North American Studies Association.
"I intend to use this learning not only to consider new projects that might follow my work on Victorian collaboration, but to also develop a Victorian Gothic course for the English department", Klimaszewski said.
She also presented a paper, "Dickens' Collaborative Voices" at the "Dickens and the Voices of Victorian Culture" conference on June 10 at the University of Verona in Italy.
In addition to 19th century British literature and critical gender studies, Klimaszewski is developing a second specialization in South African literature.
She has taught several classes at Drake including:
Approaches to British Literature
Special Topics: Social Class and Kinship in 19th Century Britain
Women and Class
She is the co-author of a biography about Charles Dickens for Hesperus Press' Brief Life series with Melissa Valiska Gregory, and is working on a biography about English novelist and playwright Wilkie Collins.
Klimaszewski holds a doctorate and master's degree in literature from the University of California, San Diego. She received her bachelor's degree in English and Spanish from the University of Michigan.