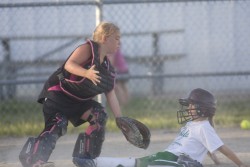 Her helmet thrown off, Panthers' catcher Leah Tigges springs into action as an opposing player tries to slide into home.
Liz Tigges expected her daughter Leah's 8-and-under softball to be good this summer.
The Beaverdale Panthers returned five players from the previous season. It stands to reason that the girls would get better with experience, thought Tigges, a program assistant with the Drake University Law School.
But Tigges, nor her husband and fellow assistant coach Ron Tigges, nor head coaches Tony and Jen LePera Johnson had an inkling that the team clad in pink and black would be ranked No. 1 in the nation for its class.
"It was a big surprise," Tigges said. "The biggest surprise for a lot of people is that there are actually ratings for teams this young."
Turns out that the United States Specialty Sports Association, USSSA for short, ranks teams from adult recreational sports through 6-year-olds. The organization promotes athletic leagues through the country and picked the Panthers as the best in the land.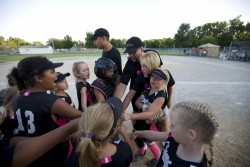 Coach Liz Tigges, a program assistant with the Drake University Law School, gets the Beaverdale Panthers 8-and-under softball team psyched up. The Panthers have qualified for the national 8U softball championship.
Drake's recruiters may want to take notice of this accomplishment. Leah Tigges, who turned 9 this year and next year will join a 10U team, is the Panthers' catcher. She hopes to grow up to be the catcher for the Drake Bulldog's softball squad.
"She's got Drake t-shirts, sweats, a sweatshirt and pennants," said Tigges. "She's even got a stuffed bulldog."
One of the Panther's favorite cheers is called Boom Boom Panther Power and involves spinning a bat and tapping feet. It's designed to pump up the girls when up to the plate. It must work pretty well. The Panthers score an average of 12.5 runs a game – five more than their opponents.
In their league, teams hit off a mechanical pitching machine or a coach pitches to players during games.
"They hit really well," Tigges said. "These girls aren't afraid of the ball at all."
Another hallmark of the Panthers is the team's defense. To spice things up in practice, coaches rotate all 11 members through a variety of positions so that every player understands what the others must do in various game situations.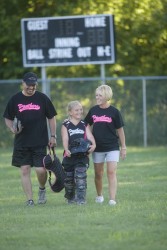 Youth softball coaches Ron and Liz Tigges and their daughter, Leah, savor another Panthers' victory.
"It's one of the ways they support each other," Tigges said. "In every situation, they all know where they and their teammates are supposed to be. If somebody's out of position, they yell over and tell them where they need to be. They all have a great understanding of the game."
The team also keeps the spirit of youth sports. Every player gets a couple innings in the field and every player bats, even when they are not playing in the field. That means all 11 girls are essentially in the game at all times.
"It's a true team effort," Tigges said. "Nobody considers it punishment to come sit on the bench after being in the field. They know it's part of the game. They just consider it a break."
The Panthers begin a four-day regional tournament in Kansas City, Mo., Thursday, July 9. The team's performance in Kansas City will determine their seed at the national championship in Branson, Mo., July 19-26. The championship will be broadcast on ESPN.
The team seeks sponsors to help cover expenses for the trips. If individuals or businesses are interested in sponsoring the Panthers, call 515-669-6329 or make a tax-deductible donation to the Beaverdale Little League, in care of Jen LePera, 8602 Westown Parkway No. 1403, West Des Moines, IA 50266. Donations need to specify the 8U Panthers.
All the attention, including a spot on WHO-TV, Des Moines' NBC affiliate, has not gone to the team's head.
"They're still a great group of kids who happen to be very good softball players," Tigges said. "Above all else, they're having fun."