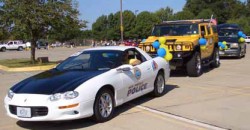 The police department's Camaro is often featured in parades and festivals.
This Wednesday's Drake Neighborhood Farmers' Market will feature music man Arnie Williams and a table of free crayons and coloring books sponsored by the First Christian Church. Information about the services offered by the Alzheimer's Association will also be available.
In addition, the Des Moines Police Department will make a special appearance with its 2002 Chevrolet Camaro.
The market is open from 4 to 7 p.m. every Wednesday through Sept. 30 in the parking lot of First Christian Church, 2500 University Ave. Free parking is available for shoppers across from the market on the east side of 25th Street.
Each week more than 20 vendors offer Iowa-grown produce, baked goods, snacks, meals, sandwiches and crafts. Four vendors have wireless equipment to accept bank debit cards, VISA, Discover and MasterCard credit cards, as well as Electronic Benefit Transfer cards.
IFMNP/WIC checks and Senior Farmers' Market Nutrition checks are welcome at the market.
Entertainment is provided weekly, as well as educational and informative guests. The market has a health tent, where free blood pressure checks and blood sugar tests are available each week.
A coloring contest for children and teens ages 5-18 will begin June 17. Entries will be available at the market from June 17 through July 15. Prizes for three age categories are "market money" and winners will be announced July 22. Details are available at the market's Web site.
The market is a nonprofit, community project sponsored by First Christian Church, the Drake Neighborhood Association and Drake University. For more information, call Ginny Gieseke at 515-277-6951.