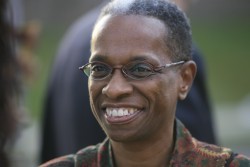 Wanda Everage
Wanda Everage, vice provost for student affairs and academic excellence at Drake University, will receive the Distinguished Education Leadership Award from the Greater Des Moines Leadership Institute on Wednesday, June 24.
The award is bestowed on alumni of the Greater Des Moines Leadership Institute's Leadership Program who are locally recognized for their strong principles and outstanding contributions to education.
Everage graduated from the leadership program in 1999. She also holds a bachelor's degree from Drake and a master's degree in educational administration and a Ph.D. in higher education from Iowa State. Before joining Drake in 1988, she served as vice principal of Des Moines Roosevelt High School.
Drake University alumna Connie Cook, associate superintendent of Des Moines Public Schools, is one of the educators who nominated Everage for the award.
"The Greater Des Moines Leadership Institute could not find a better representative of the importance and impact of education in our community," Cook wrote in her nomination letter.
Cook noted that Everage demonstrates extraordinary talent for helping others become better students, better citizens and better human beings. Under her leadership, for example, Drake University's already-strong retention rate improved by 7 percent over the past five years.
A highly regarded speaker, Everage also extends her leadership and vision to a multitude of change-agent organizations. She has served on the Iowa Board of Parole, the Iowa Commission on the Status of African Americans, Orchard Place and Partners in Economic Progress.
Everage will accept her award at the Distinguished Leadership Awards Luncheon, which will start at 11:30 a.m. at The Meadows at Prairie Meadows Race Track and Casino, 1 Prairie Meadows Drive in Altoona.