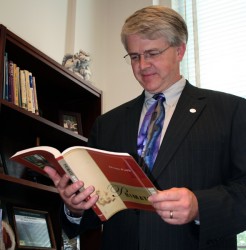 Michael Renner reads a book while his gargoyle, a gift from his wife, looks over his shoulder.
When Drake Provost Michael J. Renner took a detour off the
teaching and research path to assume an interim administrator role, he wasn't
sure whether he'd like the change.
After getting acclimated to life as an administrator, Renner
realized he really enjoyed the work.
"I found I liked getting the obstacles out of the way
so other people could do good work, too," said Renner, who came to Drake
June 1 from Mansfield University in Pennsylvania.
Renner was asked by a colleague at West Chester University
to help out as an administrator on a temporary basis. With much experience in
animal behavior as a scientist and teacher under his belt, he was ready for the
new challenge.
"I thought; maybe I was doing more good in the world if
I could help 50 faculty members be more effective than if I just continued
doing my own work," Renner said. "I was raised to believe that you
are supposed to work where you can do the most good. And it opened a door in my
head that maybe I should consider this."
Renner served as Mansfield's provost and vice president for
academic affairs for three years and was the founding dean of the College of
Arts and Sciences at Nazareth College in Rochester, N.Y. He also spent 13 years
at West Chester University of Pennsylvania, where he was professor of
psychology and held numerous administrative positions.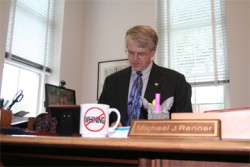 A "No Whining" mug and gargoyle pencil holder found a home on Renner's new desk.
It was the fit between Drake's mission and his own values, combined with a desire to take on new challenges that attracted Renner to Drake to serve as the University's chief academic officer.
He acknowledged that this is an exciting time for Drake, but also a time of change in higher education considering the global recession. Renner's goal is for the University's response to change be grounded in the efforts of the entire campus community.
"One thing is very clear in my head: you don't lead people where they aren't excited to go," Renner said.
This idea of teamwork is something he lives by in his work and home life. Renner and his wife, Catherine, recently worked together to get their family of four, two dogs (including a new puppy) and geckos settled into their new home in Clive.
Catherine, who also has a doctorate in psychology and statistics, plans to take some time to settle the family and then might look for a position that uses her skills.
Their daughter, Moriah, 19, transferred from Mansfield to Drake to study political science, and their son, Jack, 8, will start third grade this fall.