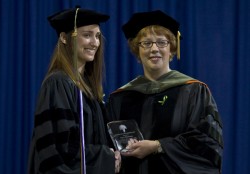 Sara Newton and Dean Raylene Rospond
Recent Drake University graduate Sara Weirather Newton has received Drake's third Karbeling Memorial Leadership Award for her leadership and outstanding contributions to the University and the pharmacy profession.
The award was presented at Drake's May 15 College of Pharmacy and Health Sciences Hooding Ceremony, recognizing students graduating with a Doctor of Pharmacy degree.
The annual award is given to recognize a pharmacy student who has shown leadership in professional education, association work, community service and pharmacy practice. It was created in memory of Jerry Karbeling, a 1974 Drake pharmacy graduate and an outstanding alumnus who died in 2005.
"I was surprised to hear my name called for the Karbeling Memorial Leadership Award as there are several individuals in my pharmacy class who are also well-deserving of such an award," said Newton of Montrose, Iowa.
"I realized about halfway through Dean Rospond's introduction that I had been actively involved in all of the professional and leadership organizations she was mentioning, and that I might be the award recipient!"
Newton has been active in several organizations including:
American Pharmacists Association-Academy of Student Pharmacists

(APhA-ASP)

Iowa Pharmacy Association

Drake College of Pharmacy Academic Integrity Committee

Drake Pharmacy (Rx) Unified Group of Students (DRxUGS)
Matthew C. Gauck, vice-chair of the APhA-ASP communications committee, praised Newton for combining her pharmacy education with exemplary community service in the award nomination letter.
"Sara utilizes and hones the skills she attained in pharmacy school to organize and participate in many Patient Care Projects as part of APhA-ASP, including Operation Diabetes, Operation Immunization and the Heartburn Awareness Challenge," Gauck wrote.
"She also volunteers at skilled nursing facilities and oncology units to assist patients in need. Sara's caring personality radiates into the lives of the people she serves."
Newton said she plans to stay in the Des Moines area for the next three years and work for Walgreens while her husband completes a family practice residency at Broadlawns Medical Center. They both hope to practice rural pharmacy and medicine in the future.
Karbeling: Longtime leader and advocate for pharmacy at Drake
Karbeling was the owner of Big Creek Pharmacy in Polk City, Iowa, and senior vice president for public affairs and corporate development for the Iowa Pharmacists Association. He was a member of Kappa Psi, a professional leader, community advocate and strong supporter of Drake's pharmacy program.
The class of 1974 established the Karbeling Memorial Leadership Fund, which supports the annual award for a student who demonstrates Karbeling's values and actions including professional involvement, commitment to practice and political advocacy.
Candidates for the Karbeling Leadership Award are full-time Doctor of Pharmacy students in their fourth year of the Professional Pharmacy Program enrolled in the College of Pharmacy and Health Sciences at Drake.
For more information about the Karbeling Memorial Leadership Award, contact the Emily Hamilton at 515-271-4049 or
emily.hamilton@drake.edu
.