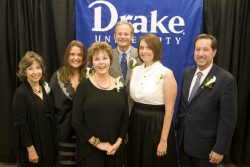 Maddy Maxwell, Carrie Blumenfeld, Joan Middleton, Richard Hartig, Jennifer Henderson and David Maxwell.
Nearly 200 alumni, staff and friends of Drake University gathered last weekend at the annual Alumni Awards Dinner to celebrate the success of this year's alumni award winners.
The alumni were recognized for their career accomplishments and loyalty to the University at the May 16 event. In addition, Drake President David Maxwell and First Lady Maddy Maxwell were honored for their 10 years of service to the University.
The award winners, who were selected by Drake's National Alumni Association, are listed below:
Jennifer Jacobs Henderson — Young Alumni Achievement Award



Henderson, who earned her bachelor's degree in 1990, is an associate professor of communications at Trinity University in San Antonio.
Carrie Blumenfeld — Young Alumni Loyalty Award



Blumenfeld, who earned her bachelor's degree in 2000, is the account director for Wunderman, a direct marketing agency in Chicago.
Joan Behrendt Middleton — Alumni Loyalty Award



Middleton, who earned a bachelor's degree in 1963 and a master's degree in 1977, and her late husband and Drake alumnus Lyle, created the endowment for the Joan and Lyle Middleton Center for Children's Rights.
Richard Hartig — Distinguished Service Award



Hartig, who earned his bachelor's degree in 1973 and Doctor of Pharmacy degree in 1981, is CEO and owner of Hartig Drug Stores based in Dubuque.
Drake also recognized
Bill Bryso
n, who received an
Alumni Achievement Award

during his visit to Drake in April to deliver the Martin Bucksbaum Distinguished Lecture. Bryson, who earned a bachelor's degree in 1977, is an author whose books sold some 10 million copies throughout the world and have been translated into more than 20 languages.