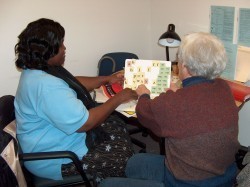 Madelyn Davis, left, works with her tutor, Joanne Brown, a retired Drake English professor.
MEDIA CONTACT: Tory Olson, 515-271-1834, tory.olson@drake.edu
More adult readers will benefit from Drake University's
Adult Literacy Center, thanks to a book fair on Saturday, June 6, at two Barnes
and Noble locations in West Des Moines.
The event will be held from 10 a.m. to 8 p.m. at 4550
University Ave. and 101 Jordan Creek Parkway.
Proceeds from the book fair will help support the program
in Drake's School of Education. Read more about the center online.
The Des Moines Register recently featured a story about the center and one of its clients who learned how to read and gained other important life skills through the program. The entire story, titled "Once unable to read, Des Moines man finds way with words," is available online.
"More than 70 volunteer tutors meet one-on-one with
adult new readers at the Adult Literacy Center," said center coordinator Anne Murr. "With
community support, these learners expand their lives in ways most of us take
for granted. Contributions help volunteers invest in the community, one life at
a time."
At the fair, volunteers will be handing out fliers, which shoppers can present at the time of purchase to show they want the proceeds to go to the center. The vouchers are available online.
Gift-wrapping also will be
available for shoppers in return for good-will donations.
"Last December, the center held a book fair at the
same store and raised nearly $1,400," Murr said. "We hope to have
similar success this time around."
Additional support from Dollar General Literacy
Foundation
The center, which has provided free literacy services to
adults in Des Moines for 33 years, recently received a $20,000 grant from the
Dollar General Literacy Foundation.
This grant will continue to fund a pilot project that
began in 2008 when the center received a $15,000 grant from the foundation. The
pilot project identifies and evaluates the impact of the 21stcentury technology in the education and training of adults with low literacy
skills.
"Most of the adults who enroll in the center are
employees, but have low-paying jobs," Murr said. "They can do so much
more if they have the tools they need to succeed."
The funds will be used to continue and enhance the
center's daily operations, including:
One-on-one
tutoring for adult readers
New
technology for GED preparation and job training
Research
in use of technology, adult basic education and job training
Development
of community partnerships
The project will focus on students taking classes though
the center and participants from project partners:
Des
Moines Area Community College
Workforce
Training Academy
Mainstream
Living, which provides vocational and residential services
For more information about the center and book fair,
contact Anne Murr at 515-271-3982 or anne.murr@drake.edu.