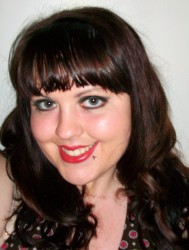 Karli-Jo Storm
CONTACT: Tory Olson, 515-271-1834, tory.olson@drake.edu
Drake University senior Karli-Jo Storm recently was selected to receive a Fulbright Grant for the 2009-10 academic year. She will teach English to students in Azerbaijan, a small Eurasian country located between Russia and Iran.
A resident of Logan, Iowa, Storm is the fourth member of the Drake community to be awarded a Fulbright grant this year.
Alexa Horwart, who graduated from Drake last December, and Drake senior Amy Benes recently were selected to receive Fulbright Grants for the 2009-10 academic year. Horwart, a resident of Burnsville, Minn., will teach English to students in Indonesia while Benes, a resident of Downers Grove, Ill., will teach English to students in South Korea.
In addition, Karl Schaefer, Drake professor of librarianship, has received a Fulbright grant to pursue research at the Bibliotheca Alexandrina — the largest and most prestigious library in Egypt.
"Eight current or former students applied for Fulbright scholarships this past fall — a record for Drake," said Eleanor Zeff, Fulbright program adviser and associate professor of politics and international relations. "Five of them reached the final stage of the application process."
Drake has been recognized nationally in recent years for the number of Fulbright grants its students have received. Most recently, Drake was ranked 13th out of 22 top producers of Fulbright Awards in 2008-09 for U.S. students for a master's institution, according to the Chronicle of Higher Education.
Storm, who will graduate from Drake on Saturday, May 16, with a double major in international relations and politics, plans to depart for Azerbaijan in early August.
"I feel very fortunate to have been given this opportunity," Storm said. "I know my trip to Azerbaijan will be an amazing experience and I look forward to it immensely. I'm sure I will learn nearly as much from the students as I will teach them."
While abroad, Storm will teach English and participate in volunteer activities and conduct research. She also hopes to take a few courses to further her Russian studies.
"I am interested in researching standards of living, access to health care, the influence of Islam on the post-Soviet republic and the nature of foreign relations with Russia," Storm said.
She also said she wants share American culture and make connections with the people of Azerbaijan.
"Too much credence is given to stereotypes of Americans — stereotypes that say Americans are ignorant and care only about material wealth," Storm said. "I want others to realize that America is made up of many individuals like me, hard-working middle class citizens raised to appreciate the importance of love, respect and moral values."
Storm has studied abroad previously, spending the summer of 2006 at the American College in Dublin, Ireland. She also studied at St. Petersburg State Polytechnic University in Russia during the 2007-08 academic year.
Storm, who has taken several years of Russian classes, hopes to improve her Russian language skills and learn some Azeri, the official language of Azerbaijan. Russian also is spoken in the country, which was part of the Soviet Union for many decades.
After she completes her Fulbright program, Storm plans to attend graduate school for Russian/Eurasian Studies in Finland. In addition, she intends to either apply for admission to the Peace Corps or for a job in U.S./Russian/Transcaucasian relations.
More information about Fulbright grants and fellowships is available at http://www.iie.org/. For more details on the Drake program, contact Eleanor Zeff at 515-271-3102 or eleanor.zeff@drake.edu.
The Fulbright application process for the 2010-2011 academic year opened in late April and runs through October.