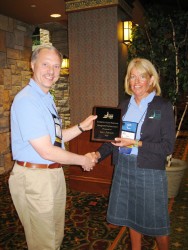 Gary Johnson accepts the award from Julie Jenson, chair of the Midwest CUPA-HR Board of Directors.
CONTACT: Lisa Lacher, 515-271-3119, lisa.lacher@drake.edu
Gary Johnson, associate director of human resources at Drake University, recently received the Midwest Region Excellence in Human Resources Management Practices Award at the College and University Professional Association-Human Resources Midwest Conference in Branson, Mo.
Johnson was selected for the honor because of his work in the development and implementation of several integrated technology practices, including a custom electronic performance evaluation process for Drake.
He collaborated with the Office of Informational Technology to develop an online performance evaluation process. Significantly, the process wasn't just made electronic and paperless, but was integrated with the Drake SCT Banner operating system.
This integration created a central storage system of performance evaluations, eliminating the need for paper copies. At the same time, it provides a historical record for employees and managers, available for viewing at any time. In addition, each employee can access his or her performance goals at any time by visiting the employee's customized portal page.
Johnson continues to review the process and make improvements, as new needs arise. For example, the Drake University Board of Trustees was interested in knowing whether Drake managers were actually awarding salaries on the basis of merit. So, he developed a report that shows the average salary increase for each rating on the performance evaluation form. This report is now a critical assessment tool used to show the effectiveness of Drake's compensation and performance evaluation system.
A resident of Ames, Iowa, Johnson joined Drake in 1993 as safety manager. He became assistant director of human resources in 1995 and was promoted to associate director of human resources in 2007. He received his MBA from Drake in 1996.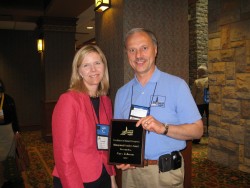 Venessa Macro, left, nominated Gary Johnson for the award.
Johnson also is leading a project that will integrate job descriptions
to the centralized electronic system. This new system will minimize
paper filing, provide a centralized location for all job descriptions
and, most importantly, increase the likelihood that managers and
employees alike utilize job descriptions as they were intended to be
used: to provide an accurate, up-to-date statement of duties performed.
In addition, Johnson is spearheading a project that will transform
the appointment letter process to an electronic format, saving
significant paper and human resources.
Each of Johnson's projects has produced:
Enhanced efficiency and reduced paper filing
Delivery of HR tools in an easy-to-use electronic format
Enhancement of the actual use and effectiveness of HR-tools by integrating them into the employee's daily work life
Advanced HR credibility through collaborating with others to produce a useful tool
Saving of time and resources through effective use of technology
"When a member of the Human Resources team is able to take
existing technology resources and create ways of completing key
functions in more efficient ways, the pay-off is significant," said
Drake Human Resources Director Venessa Macro, who nominated Johnson for
the award.
"Through the leadership of Gary Johnson," she added, "the
transition to an online performance management process, the development
of on-line job descriptions and the future plan to move to electronic
appointment letters have all used existing resources to produce a
superior end product. At the same time, these changes have placed key
HR tools "center stage" for employees and their managers, increasing
effective use of these important tools."