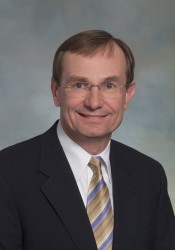 Lon Larson
Lon Larson, the Ellis and Nelle Levitt professor of pharmacy administration, died Friday, May 8, after a three-year battle with a rare, aggressive type of cancer called mantle cell lymphoma. He was 60.
The memorial service was held at Immanuel United Methodist Church in Des Moines and the visitation was held on Sunday, May 10, at Isles Funeral Homes — Westover Chapel.
Read comments about Larson and his legacy from his colleagues and students
.
Larson was first diagnosed with the cancer in October 2006. He is survived by his wife, Linda Krypel, professor of pharmacy practice at Drake, and sons Christopher Larson, Des Moines; Brett Larson, Oakland, Iowa; stepdaughter Kristina (Jason) Galle, Johnston, Iowa; stepson Eric Selander, Des Moines; grandson, Jordan Galle; and brother, Ron Larson, Mason City, Iowa.
In one of his recent lectures, Larson said that he was overwhelmed with the support from Drake, which included a bone registry drive and a cancer fundraising walk.
He was so proud of the shirt students created for the walk, which said: "In pursuit of survival we walk with and stand for our professor, our mentor and our friend, Dr. Lon Larson."
Larson: an exceptional mentor
Larson's positive outlook on life impacted everyone he came in contact with, especially his students. And that's exactly why he is the only Drake faculty member to have twice received the Madelyn M. Levitt Mentor of the Year Award — in 1997 and 2007.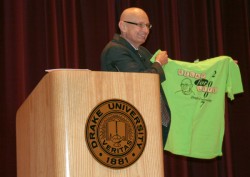 Lon Larson proudly displays a T-shirt from a cancer-awareness event students organized on his behalf.
In a nomination letter for the 2007 honor, one student said:

"Whether he's providing logical, calculated advice about internship options or just sharing a smile in the hallway, Larson is a consistent source of support for students. Dr. Larson is one of the most amazing emotional caregivers I've ever met. He is a spiritual leader, and the passion of his career and the spirit of who he is are not two separate things. The impressions he has left on me are deep and life-changing."
Larson reciprocated the value of his relationships with students. Upon receiving the award, he said:
"The relationships I have with students are really what make my job special. I think that I learn from every student. It's not that either of us will necessarily give out new facts, but when a faculty member helps a student with a problem — be it whether or not to attend graduate school, or help with a research project — both parties gain insight and become more knowledgeable."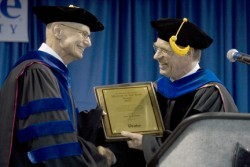 Lon Larson receives his second Levitt award from Provost Ron Troyer at Drake's 126th Undergraduate Commencement.
His long history of dedicated mentorship at Drake is reflected both in the University's consistent recognition of his service and in his students' undergraduate and post-graduate success.
He also received Drake's Pharmacy Mentor of the Year award in 2005 and served as faculty adviser to several teams of students who competed in the AMCP "Pharmacy and Therapeutics Committee" competition.
A positive attitude for every situation
Even through the tough times, Larson kept a positive outlook. After his doctors told him last July that he had three to six months to live, Larson used what he thought was his last speech to talk to students about living a positive life.
His speech, "Choose Your Attitude," encouraged students to live positively and to savor each moment, even if the moment offers something unexpected or unpleasant.
He said: "Each of us gets to choose our attitudes. We can worry about a future that may never arrive, or relive the past, or we can live in this moment and be thankful for it."
Larson also is remembered for his closing comments with a saying inspired by Lou Gehrig's farewell appearance at Yankee Stadium:
"Finally, Mr. Gehrig, if I may steal your thunder," Larson said. "Today — I am the luckiest person in the world!"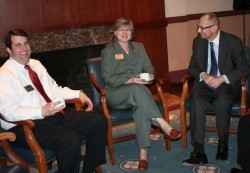 Lon Larson (right) laughs with colleagues Craige Wrenn (left) and Jane DeWitt (center) at a coffee reception before the Weaver Lecture.
However, those weren't his last inspiring words.
Last month, on the heels of being honored with the College of Pharmacy's highest honor — the 2009 Lawrence C. and Delores M. Weaver Medal of Honor — Larson gave another speech, "Giving Back."
For nearly 500 students and colleagues, he summed up his thoughts with a poem inspired by a Louis Armstrong song:
"I see friends shaking hands saying, 'How do you do.'

They really say: 'I love you!'
I see Drake students studying, I watch them grow,

They'll learn much more than I'll ever know,

And I think to myself:

'What a wonderful world!'

Yes, I think to myself:

'What a wonderful world!"
A true dedication to the pharmacy profession
Larson, who gave numerous presentations and wrote many publications and articles, earned his bachelor's degree in pharmacy from Drake in 1972 and went on to receive an M.S. and Ph.D. from the University of Mississippi in Health Care (Pharmacy) Administration. He worked in regional health planning and health insurance before beginning his academic career at the University of Arizona. He joined the Drake University faculty in 1991.
Larson also was an outstanding alumnus. He received Alumni Achievement Awards from both Drake and the University of Mississippi.
Larson also served on the Board of Directors of the Iowa Pharmacy Association and of its subsidiary PNI Inc., and was a fellow of the American Pharmacists Association and a member of the Academy of Managed Care Pharmacy and the American Association of Colleges of Pharmacy.
One of his colleagues spoke of Larson's dedication upon introducing him before the Weaver lecture last month:
"Lon Larson has given extensive, valuable time to the profession, the college and the University," said Richard Morrow, the Ellis and Nelle Levitt distinguished professor of pharmacology. "He personifies the concept of a servant leader…He is a fearless leader."