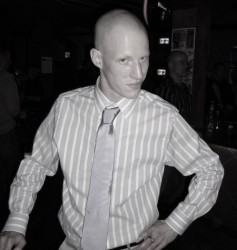 Matthew Smith
MEIDA CONTACT: Tory Olson, 515-271-1834, tory.olson@drake.edu
One Drake University student recently received national
coverage on an episode of the "Oprah Winfrey Show."
Matthew Smith, a junior magazine major of West Des Moines,
has been covering Iowa's historic decision legalizing gay marriage as a
freelance contributor for Windy City Times, Chicago's oldest gay publication.
On Monday, April 27 — the first day gay couples could apply
for marriage licenses — he captured approximately 400 photographs of Iowa
couples, including Maryfrances Evans and Stephanie Macfarland of Urbandale,
Iowa.
That Wednesday, Evans and McFarland were asked to share their story on the Oprah Winfrey Show. In agreeing to do so, they needed to supply a photograph — which is how Smith became involved.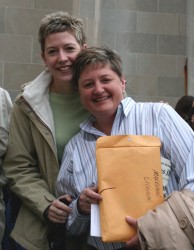 This photo of Maryfrances Evans and Stephanie Macfarland was one of nearly 400 of photos Smith took on April 27.
"Someone from the show gave me a call, wanted to use my work and I of course didn't argue," Smith said. "I mean, it's Oprah. You don't say no to Oprah."
Smith submitted four photographs to the "Oprah Winfrey Show," one of which appeared on the episode.
"It was a terrific payoff for a good job of journalism," said Lori Blachford, Drake assistant professor of journalism.
Smith described his reaction as follows: "Stunned. Shocked. Surreal. There is nothing more satisfying than seeing YOUR NAME in the end credits of the 'Oprah Winfrey Show.'"
Smith became involved with Windy City Times through Blachford, who was contacted by Drake alumna and co-founder of the publication Tracy Baim, in search of a writer to cover the issue.
Smith will continue to contribute to Windy City Times, and is working on another piece about same-sex activists who reside in Mason City, Iowa.