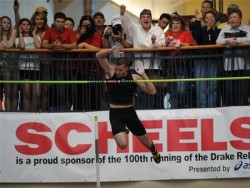 Mark Hollis
Mark Hollis cleared 18 feet 4.5 inches to win the second annual Drake Relays Pole Vault in the Mall competition Wednesday night at the Jordan Creek Town Center.

More than 2,000 fans were on hand to watch five of the top pole vaulters in the United States compete including Derek Miles, who finished fourth in the 2008 Olympics.


A special VIP section included six former Drake Relays athletes who were selected as Athletes of the Century in conjunction with the 100th running of the Drake Relays.


Two-time Olympian Steve Scott, the former American record holder in the mile; 1984 Olympic gold medal sprinter Calvin Smith; 1984 Olympic gold medal sprinter Lillie Leatherwood; Mike Boit from Kenya who earned a bronze medal in the 800 at the 1976 Olympics; four-time Olympic high jumper Amy Acuff; two-time Olympic pole vaulter and American indoor record holder Jeff Hartwig.
In addition, Beverly Prather, the daughter of track immortal Jesse Owens and Dawn Prather, Jesse's granddaughter, watched the event. Jesse Owens was named the Drake Relays Athlete of the First Half Century as well as one of the top 20 Drake Relays Athletes of the Century.


"It is amazing thing to be a part of this and a historic event, especially in track and field and these are people I look up to that were my heroes two or three years ago," said Hollis. "Now I'm up with them and it is really neat to be able to meet those guys and talk with them."


Miles was the defending champion in the event but tied for third this time around with Darren Niedermeyer at 17-8.5.


Jeremy Scott, who was ranked No. 7 in the U.S. last year, finished second at 18-0.5. 


Jacob Pauli was the only athlete who failed to clear the opening height of 17-8.5.


Hollis cleared the winning height on his second attempt and the bar was raised to 18-9.25 where he missed three times.
"I felt my last jump was my best chance at it, " said Hollis. "I was still getting used to the runway and my approach and so it was a combination of putting those things with the right pole and making the bar and today it just didn't stay up."