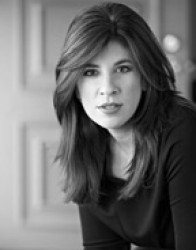 Director Ann Cravero
CONTACT: Ann Cravero, 515-271-3847, ann.cravero@drake.edu;

Lisa Lacher, 515-271-3119, lisa.lacher@drake.edu
Drake University Opera Theatre will present A Night of Italian Comic Opera featuring Puccini's popular "Gianni Schicchi" and Haydn's "La Canterina (The Diva)."
The final performance will start at 8 p.m. Saturday, May 2, in the Performing Arts Hall in the Harmon Fine Arts Center, 25th Street and Carpenter Avenue. A reception, sponsored by Friends of Drake Arts, will be held at intermission.
Ann Cravero, assistant professor of voice, directs the production. Akira Mori, conductor of the Drake Symphony Orchestra, will conduct the Drake Chamber Orchestra.
Cravero said she selected the two operas, which will be performed in English, because both contain humorous plot twists involving money-grubbing relatives.
"The cast of 'Schicchi' pretends to mourn the death of Buoso Donati while searching frantically for his will," she said. "Eventually, relatives convince Gianni Schicchi to impersonate the dead Buoso in order to rewrite the will for their benefit.
"In 'The Diva,'" she added, "the illustrious singer, Gasparina, and her mother, Apollonia, gain wealth and independence from their clever manipulation of men. Unfortunately, Gasparina's impresario and her young lover discover each other, and the divas are left scrambling."
Tickets are $14 for adults and $7 for students, senior citizens and those with a Drake ID. For tickets, contact the Drake Fine Arts Box Office at 515-271-3841.