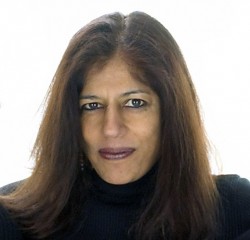 Rekha Basu
CONTACT: Tory Olson, 515-271-1834, tory.olson@drake.edu
On Monday, April 27, Drake University will host a town-hall
style event titled, "Grassroots Heroes: The Voices of Change in
Iowa," at 7 p.m. in Parents Hall in Olmsted Center, 2875 University Ave.
Des Moines Register columnist Rekha Basu, who recently
launched a series of columns — "Dreamers and Doers," will lead the
lecture and discussion.
Drake's School of Journalism and Mass Communication is
sponsoring the event as part of its Community in Diversity Lecture Series.
Basu will share stories about local heroes she has met and
the series, which aims to highlight local activists who bring change to their
communities. In attendance will be Iowans who have made their voices heard on
topics such as immigration, education, disabilities, marriage equality, and
more. They will share stories of reaching out to their communities, legislators
and the media.
"Our hope is that these stories will inspire and
motivate others to speak out about causes they believe in most," said Lori
Blachford, assistant professor and co-organizer of the event. "It really
is spectacular what a single driven individual can accomplish, especially in
this age of social media and the Internet."
Basu: longtime columnist and human rights advocate
A columnist for The Des Moines Register since late 1991,
Basu comments about local, national and international issues with a focus on
human rights, racial justice and gender equality.
Born in India, she grew up internationally and graduated
from the United National International School. She received a bachelor's degree
in sociology from Brandeis University, a master's in political economy from
Goddard-Cambridge Graduate School, and a master's in journalism from Columbia
University.
Basu has worked as a reporter, editorial writer and
columnist at newspapers in Iowa, New York State and Florida.
Her byline has appeared in The New York Times, The Nation,
USA Today, India Today South Florida Sun-Sentinel and The International Herald
Tribune, among other publications.
She has made guest appearances on "The NewsHour with
Jim Lehrer," National Public Radio and C-Span and is a frequent keynote
speaker on global affairs and race and gender issues.
Her honors include:
Iowa
Interfaith Alliance Community Service Award (2008)
Honorary
Doctorate of Humane Letters, Grinnell College
Best
Local News Commentator/Columnist Des Moines CityView readers' poll (2009)
Des
Moines Business Record's Women of Influence
Iowa
Farmers Union media award
Master
Columnist from the Iowa Newspaper Association (2007)
Des
Moines YWCA's 2006 Mary Louise Smith Award for Racial Justice
Cristine
Wilson Medal for Equality and Justice, Iowa Women's Hall of Fame
(2003)

South
Asian Journalists Association award for an essay on a Bangladeshi Muslim
victim of the Sept. 11 attacks (2001)
First
and second place honors in the Vivian Castleberry Awards for commentaries
on women's issues
The Community in Diversity Lecture Series began in 2003 to
provide Drake and the metro area an opportunity to hear diverse viewpoints from
distinguished media professionals. Speakers give a public lecture and teach in
several journalism classes as part of their visit to the campus.
The event, which is sponsored by Roger and Joyce
Lethander, also is part of Drake's Engaged Citizen Experience program. The
program aims to inform students on global issues and help them understand the
ways in which citizens can confront these challenges through democracy. This
year's theme is: "Poverty, Development and Social Responsibility:
Whose World is it Anyway?"
For more information about the April event, contact Lori
Blachford at lori.blachford@drake.edu.
Or 515-271-3194.