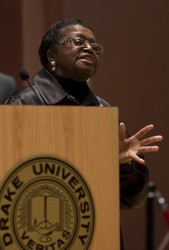 Anna M. Weems thanks the Drake community for hosting King and being part of the celebration.
The lecture and event shared the theme, "Inspired by the Legacy, Committed to the Dream."
After Colon's talk about his and Toyota's commitment to King's dream and diversity, Colon answered questions from the audience, including one about his advice for Drake students.
"Students need to find a passion," Colon said. "If you don't get up in the morning and aren't excited about going to work or whatever it is you are going to do…that would be really difficult."
Sentwali Bakari, Drake's dean of students, presented an audio and photo slideshow about King and discussed the ways in which King's legacy lives on at Drake and beyond.
Bakari said the time that King spent in Iowa will always be remembered, because his visit was a "significant event" that helped shape Iowa and King's dream.
As part of the celebration, Drake President David Maxwell accepted a plaque commending the University for hosting King. The plaque's inscription states that Drake alumnus Judge Luther T. Glanton gave a campus tour to King, who was impressed by the campus and warm reception he received from students and staff.
Glanton's great niece and 2005 Drake law school graduate Syeta Glanton also accepted a plaque on behalf of Iowa Gov. Chet Culver's office.
In addition, the Meskwaki Tribal Council also hosted King during his Iowa visit and also were presented with a plaque at the celebration.
King connections bring celebration to Iowa
Longtime Iowa resident and civil rights activist Anna M. Weems, who served with King on a presidential committee under then-President Dwight D. Eisenhower, spearheaded the initiative. It is a joint venture among Drake and the Cedar Valley MLK Memorial Committee of Waterloo, Iowa.
Weems invited King to Iowa when the two were at a committee meeting at the White House and had a conversation about Iowa's racial and civil rights climate.
The discussion spurred King's visit to Iowa, where he and his late wife, Coretta Scott King, toured, and King spoke at various venues throughout the state. In his talks, King inspired and challenged Iowans to embrace his message of peace and non-violent resistance and racial harmony.
In addition, as part of the 40th anniversary of King's assassination, Weems organized a committee to build a memorial honoring King's legacy in Waterloo, Iowa, the most diverse city in the state. This marks the first memorial in Iowa to ever honor King and is the only architectural memorial of its kind in the world.