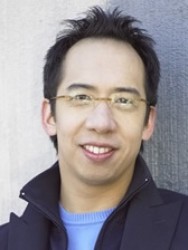 Joel Fan
CONTACT: Lisa Lacher, 515-271-3119, lisa.lacher@drake.edu
Internationally acclaimed pianist Joel Fan, who combines virtuosity with a gift for lyricism, will give a free concert at Drake University on Wednesday, April 22.
The concert will start at 8 p.m. on the Jordan Stage in Sheslow Auditorium in Old Main, 2507 University Ave. Friends of Drake Arts is sponsoring the concert and the reception that will immediately follow.
Fan also will conduct a master class for Drake piano students at 1 p.m. April 22 at St. Catherine of Siena Catholic Student Center, 28th Street and Brattleboro Avenue. The master class is free and open to the public.
Fan has been described as "superb" by The Boston Globe, "extraordinary" by The Village Voice and a "versatile and sensitive pianist" by The Washington Post.
He began his performing career with the New York Philharmonic at age 11, as a winner of the Philharmonic's Young People's Concert Auditions, and has since appeared in recital and with orchestras throughout the world.
Within the last three seasons, Fan has performed to critical acclaim with orchestras across the United States, such as the New York Philharmonic, Albany Symphony, the Santa Fe Pro Musica, Greater Bridgeport Symphony, Pueblo Symphony and Rhode Island Philharmonic.
Fan is a member of Yo-Yo Ma's Silk Road Ensemble and has appeared in numerous performances with the ensemble at such venues as Carnegie Hall, Symphony Center in Chicago, the Kennedy Center in Washington, D.C., and the Concertgebouw in Amsterdam.
Fan's international concerto appearances include Royal Stockholm Philharmonic, New Symphony Orchestra of Bulgaria, London Sinfonietta and Singapore Symphony.
Fan is a champion of new music and an explorer of world music. His debut solo recording "World Keys," released on the Reference Recordings label, reached No. 3 on Billboard's Classic Chart in 2006. It includes works by Prokofiev, Schumann, Liszt and recent pieces by Dia Succari, Qigang Chen, Peter Sculthorpe and Peteris Vasks.
His program for the Drake concert features works by Saygun, Prokofiev, Succari, Chen, Beethoven, Villa-Lobos, Kirchner, Chopin and Liszt.
A native New Yorker, Fan received his bachelor's degree from Harvard University and a master's degree in piano performance from Peabody Conservatory.
For more information about Fan's Drake concert and master class, call 515-271-3975.