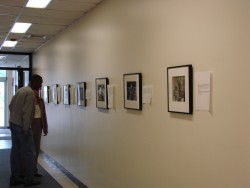 Visitors view the exhibit at Drake's School of Education.
Trauma art exhibit finds its home on Drake's campus
An exhibit of art and essays created by troubled adolescents from the Iowa Juvenile Home in Toledo, Iowa, has a permanent home in Drake's School of Education, thanks to the generous support of several donors.
The exhibit, "Trauma Reflected Through Art," is the result of an art therapy project aimed to help the students confront buried emotions from trauma in their earlier childhoods.
The collection toured across Iowa over the past year before Drake purchased it with funds donated by longtime friends of Drake Grover and Cindy Hahn and James and Cheryl Marshall, the parents of a recent Drake graduate.
Professor Kathy Fejes, who has worked more than 15 years with adolescents and staff at the Iowa Juvenile Home, also was instrumental in bringing the collection to Drake.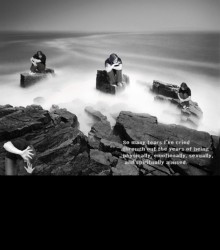 "Sea 4" is on display as part of the "Trauma, Trials and Triumph" exhibit.
"This exhibit offers the opportunity to see how Iowa treats at-risk children in dire circumstances and how kids respond to treatment and grow," said Fejes, co-organizer of the exhibit.
Residents of the Iowa Juvenile Home produced more than 30 works in the exhibit through the therapeutic art program. The home is the state training school for delinquent girls and also serves boys and girls who are deemed Children in Need of Assistance, typically as a result of abuse or neglect.
The exhibit features paintings, sculptures, woodworking projects and digital photographs created by young artists ranging in age from 14 to 17. Each work is accompanied by the artist's essay detailing the emotions and events that prompted the creative expression.
"The artists are anonymous," said Gary Olson, co-organizer of the exhibit and director of the therapeutic art program at the home, "although they should be commended for having the courage to offer their work for public display."
The exhibit is free and open to the public from 8 a.m. to 4:30 p.m. Monday through Friday.