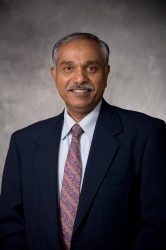 Pramod Mahajan
Professor receives grant for pharmacogenomics lab
The Iowa Board of Regents has awarded a $60,000 grant from the Grow Iowa Values Fund to Pramod Mahajan, associate professor of pharmaceutical sciences at Drake, for a new laboratory for training and research in pharmacogenomics.
Pharmacogenomics (PGx)
is a relatively new discipline of heath science focusing on how genes affect the way individuals respond to drugs. PGx research has begun to offer tools for using individual genetic variations and drug responses to customize treatment or therapy in diseases such as breast cancer and leukemia.
Along with matching funds from private donors, this grant will be used to establish a Pharmacogenomics Training and Research Laboratory in Drake's College of Pharmacy and Health Sciences.
"This new lab will serve as a central facility for Drake faculty involved in research requiring access to molecular, genomic and bioinformatics technologies," Mahajan said. "The facility also will be used to train current and future Drake students, Iowa physicians, pharmacists and nurses involved in the use of this technology."
Professor Mahajan
, who has more than 25 years of research and teaching experience in academia and private industry, joined the Drake faculty in January 2008. This semester, he is teaching the first full course on PGx at Drake.
He also serves as a member of the DeltaRx Institute, an organization devoted to instilling entrepreneurial leadership in its members and partners. In addition, he is a member of the Advisory Board of Drake's chapter of Students in Free Enterprise.
His broad technical expertise ranges from enzyme engineering to agricultural biotechnology to molecular pharmacology to human genomics. He is the author of 26 peer-reviewed publications in international journals. In addition, he is the lead inventor or author of 30 issued U.S. patents.
Mahajan earned his Ph.D. in biochemistry from the University of Poona in India, then completed post-doctoral training at the University of Kansas Medical School in Kansas City, Kan., and the University of South Carolina, Columbia, S.C.
He went on to become assistant professor of biochemistry and human genetics at the University of Texas Medical Branch in Galveston, Texas. He served as the founding managing director of the Molecular Biology Center there before moving to Pioneer Hi-Bred International Inc., where he worked primarily in the area of genome modification technology development.