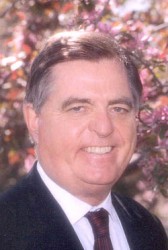 Roger K. Brooks
Alumnus and trustee member receives Community Leadership Award
Roger K. Brooks, retired CEO and chairman of AmerUs Group, recently received a Community Leadership Award from Drake University.
The award was presented by Drake's College of Business and Public Administration at the annual Business Days Banquet on April 8.
Brooks, who attended Drake in 1955-57, is a strong supporter of the college. In 2005, he established the Roger Brooks Actuarial Science Scholarship for first-year actuarial science majors. His inspiration for the award came from his own experience that led him from Drake to the University of Iowa to finish his bachelor's degree.
"It's a real honor to receive this award," Brooks said. "My years at Drake were instrumental in building the skills needed to succeed in the insurance business. Drake is a real asset for Des Moines and for Iowa."
Brooks, who serves on Drake's Board of Trustees, had been with AmerUs for nearly 50 years. He retired in 2005, before Aviva PLC, Britain's largest company, took over AmerUs for $2.9 billion.
A past chairman of the Greater Des Moines Chamber of Commerce, he is a member of the Iowa Insurance Hall of Fame and Iowa Business Hall of Fame.
Brooks has served on numerous boards, including the Belin-Blank Advisory Board, Des Moines Development, Downtown Partnership, Neighborhood Finance Corp., Downtown Events Group, Des Moines Art Center, Polk County Housing Trust Fund, Des Moines International Airport and Community Foundation of Greater Des Moines.
Active with United Way, Brooks chaired the annual fundraising campaign for United Way of Iowa and in 2004 received the organization's Central Iowa Alexis de Toqueville Society Award.
He also is a fellow in the Society of Actuaries and member of the American Academy of Actuaries.
Brooks graduated magna cum laude with a bachelor's degree in mathematics from the University of Iowa. He also participated in Stanford University's Executive Program.
"Roger has had a tremendous impact on the Des Moines community and on Drake University," said Charlie Edwards, dean of the college. "In addition to his active involvement with many community organizations, his leadership on Drake's Board of Trustees has helped shape the education for our students and the position of the University."
The Community Leadership Award was created by the College of Business and Public Administration to recognize an individual who has made an impact in the community through their business and individual generosity. The individual must have a record of impact to the community through their personal philanthropy and volunteer service and be affiliated with a business that has made a significant contribution to the Des Moines community.