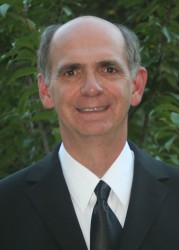 Joe Lenz
JOE LENZ NAMED DEAN OF COLLEGE OF ARTS AND SCIENCES
Drake's new dean of the College of Arts and Sciences Joe Lenz can honestly say he's in this position now thanks to his roots.
The newly appointed dean's first interest in trees and nature grew from visits to his high school by officials from the Wisconsin Department of Natural Resources.
He went on to major in forestry at Michigan Technological University, where Lenz realized that he pined to read books, not make the paper for them.
"I started out in forestry, but, through some alchemical reaction (trees > pulp >paper > books), ended up in English," said Lenz, whose appointment became official on April 1.
After transferring to a new school, Lenz branched out, and changed his major to English and finished a bachelor's degree in English from St. Norbert College. He also went on to receive a master's from Arizona State and a Ph.D. in English from the University of Illinois.
It was his background in English that brought him from teaching at the University of Michigan to Drake in 1982.
His teaching and writing focus on Shakespeare, early modern writers, the romance genre, law and literature as well as literary criticism. He has created more than a dozen courses, including two seminars for first-year students and a Shakespeare course that he teaches entirely on the Web.
Before becoming dean, Lenz served as interim dean for two years and was professor of English and chair of the English Department, a position he had held since 1992.
"I am honored to be asked to continue to serve as the dean of Arts and Sciences at Drake University," Lenz said. "I am thankful for the confidence that President David Maxwell and Provost Troyer have shown in me, and look forward to working with our new provost, Michael Renner.
"Most of all," he added, "I am grateful for the support over the past two years of the faculty, staff, alumni and friends of the college. With their help, we can create a distinctive learning environment for our students that will maintain and enhance Drake's place as one of our premier universities."
With 129 full-time faculty and 1,289 students, the College of Arts and Sciences is the largest of Drake's six colleges and schools.
As interim dean, Lenz has been a dynamic leader involved in many projects, including:
Revising the college promotion and tenure procedures
Planning for expanded and renovated science facilities
Initiating increased support for the Student Travel and Research Fund
Revising funding for faculty development and research support
Beginning the revision of the college's five-year strategic plan, aligning it with the University's goals and objectives
Arranging for Drake to join the consortia of colleges and universities associated with the Studio Arts Center International in Florence, Italy, opening new opportunities for study abroad for Drake students and faculty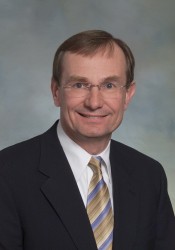 Lon Larson
DRAKE'S LON LARSON TO RECEIVE WEAVER MEDAL OF HONOR
Lon Larson, the Ellis and Nelle Levitt distinguished professor of pharmacy administration at Drake University, has been selected to receive the 2009 Lawrence C. and Delores M. Weaver Medal of Honor. The award is the highest honor presented by Drake's College of Pharmacy and Health Sciences.
Larson earned his bachelor's degree in pharmacy from Drake in 1972 and went on to receive a Ph.D. from the University of Mississippi before joining the Drake faculty in 1991.
He is the only member of Drake's faculty and staff to have twice received the Madelyn M. Levitt Mentor of the Year Award. He was first honored with the award in 1997 and then again in 2007. Larson also has received Alumni Achievement Awards from both Drake and the University of Mississippi.
In addition, he has served on the Board of Directors of the Iowa Pharmacy Association and its subsidiary PNI Inc.
His academic interests include cost-effectiveness analysis, the ethics and values of health policy and the rationing of health care services. Larson has published more than 75 professional articles and book chapters.
He is a fellow of the American Pharmacists Association, a member of the Academy of Managed Care Pharmacy and the American Association of Colleges of Pharmacy.
Larson discussed his views and philosophies in a Nov. 14 lecture titled "Choosing your Attitude." The talk was part of the Student Leadership Development Series in Drake's College of Pharmacy and Health Sciences. Larson, who is battling cancer for a second time, invited other cancer survivors to join him at the lecture.
The Weaver Medal of Honor was established by Lawrence Weaver, a 1949 pharmacy graduate, dean emeritus of the University of Minnesota College of Pharmacy and his wife, Delores.
Former students, professional colleagues and friends of the University are invited to an event honoring Larson's dedication and service to Drake and to the pharmacy profession.
The award ceremony and lecture will take place at 2 p.m. on Wednesday, April 22, on Jordan Stage in Sheslow Auditorium in Old Main, 2507 University Ave.
Larson has touched the lives of many individuals during his career at Drake. As we prepare to recognize his legacy with the Weaver Medal of Honor, we are looking for stories from his former students and professional colleagues. If you have a memory of him you'd like to share, please contact Marilea Chase at 515-271-1814 or
marilea.chase@drake.edu
.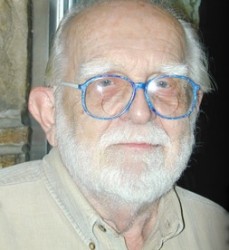 Bev Mahon
DRAKE REMEMBERS LONGTIME VARSITY THEATRE OWNER'S IMPACT ON COMMUNITY
Bev C. "Mr. Varsity" Mahon, 86, longtime owner of the Varsity Theatre by Drake's campus, died on March 27 at Iowa Methodist Medical Center.
Mahon, who owned the Varsity since 1954, was in the motion picture business for 78 years. He was well known for showing numerous independent films that weren't available anywhere else in the Des Moines area.
He also worked for National Screen, Paramount Pictures and also owned and operated theaters in Pella, Omaha and Sioux City.
In a story about Mahon in the Des Moines Register, retired Drake Vice President Don Adams said:
"Mahon was also an activist in the Drake neighborhood. The consistency of his business provided a cornerstone to the area in good times and bad…He was always a great neighbor…He brought culture to our neighborhood and brought people to the area to see all the things it had to offer. His contribution cannot be underestimated."
A longtime resident of Iowa, Mahon grew up in Monroe and graduated from Roosevelt High School in Des Moines.
He attended Stanford University and served as a cryptographer with a B-29 outfit on Tinian Island in World War II.
He is survived by his wife of 58 years, Zora; daughters, Denise and Michele Mahon; sons, Mike — longtime sports information director at Drake — and Greg; and favorite grandchild, Celeste, who all reside in West Des Moines.
The Varsity Theatre continues to operate under the direction of Denise Mahon.
Funeral services were held April 2 at Sacred Heart Church in West Des Moines.