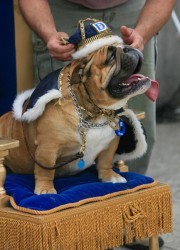 Last year's contest winner, Buddy, basks in the spotlight on his throne.
MEDIA CONTACT: Dolph Pulliam, 515-271-3084,
dolph.pulliam@drake.edu; Tory Olson, 515-271-1834, tory.olson@drake.edu
Drake University's 30th annual Beautiful Bulldog Contest
will take place at 10:45 a.m. on Monday, April 20, at Nollen Plaza, Third and
Locust streets in downtown Des Moines.
The increasingly popular competition, which is free and open
to the public, has been filled to capacity with 50 canine contestants from
across Iowa as well as Nebraska, Wisconsin, Missouri, Kansas, Indiana,
Illinois, South Dakota and South Carolina.
"The competition has never filled up so quickly," said
Dolph Pulliam, Drake's director of community outreach and development. "We
reached the maximum of 50 bulldogs only seven days after opening the entry
process. Today, we have more than 40 contestants who have asked to be on our
stand-by list in case someone drops out."
The contest will begin with judging from 10:45 a.m. to noon,
and the pageant will follow from noon to 1 p.m.
The panel of "celebrity judges" will include:
Sandy
Hatfield Clubb, Drake's athletic director
Chris
Creighton, Drake's head football coach
Blake
Campbell, Drake's director of Alumni and Parent Programs
Representatives
from corporate sponsors such as Bankers Trust Co. and Prairie Meadows Race
Track and Casino
The competition's rules state that all competitors must be
real, living, drooling English bulldogs. In addition, costumes and T-shirts are
encouraged in order to catch the judge's attention. Finally, as in years past,
"beauty" is determined by the judges' subjective opinion.
The winning Bulldog will serve as the official mascot for
the 100th running of the Drake Relays April 23-25 and will appear in the 2009
Relays Parade.
In addition, a photo contest for amateur photographers will
be included in this year's competition. Members
of The Des Moines Amateur Photography Club will be invited to compete to take the best photograph of the event.
Bankers Trust Co. and Prairie Meadows Race Track and Casino
and Drake University are sponsoring this year's Beautiful Bulldog Contest.
In the event of rain or bad weather, the contest will move
to the Drake Fieldhouse, 2701 Forest Ave.
For more information about the competition, contact Jeannie
Nielsen at 515-271-2389.