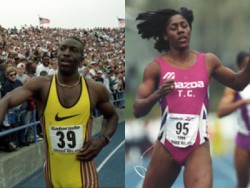 Michael Johnson and Gwen Torrence
JOHNSON, TORRENCE NAMED DRAKE RELAYS ATHLETES OF CENTURY
Michael Johnson, considered the greatest long sprinter in the history of track and field, and Gwen Torrence, one of America's best and most versatile women sprinters of all time, have been named the Drake Relays overall Men's and Women's Athletes of the Century.
The duo combined to win 14 Drake Relays individual titles, while setting four Drake Relays records.
They join 18 other track and field athletes who were recognized earlier. Together, the entire group combined to win 99 individual Drake Relays titles, while setting 41 Drake Relays records in the process.
All 20 Drake Relays Athletes of the Century will be honored during a gala event which is open to the public on Thursday, April 23, at 7:30 p.m. at the Drake Knapp Center.
The 100th running of the Drake Relays will be April 22-25 at Drake Stadium.
A three-time Olympian, Johnson won four gold medals. He is the only athlete in history to win the 200 and 400 at the same Olympics, accomplishing the feat in 1996 when he set a then world record in the 200 (19.32).
He also owns the current world record in the 400 of 43.18 in 1999. He became the only man to repeat as Olympic 400 champ when he won gold in 2000. Johnson accumulated nine gold medals at world championship meets, the most of any athlete in history.
Johnson captured six individual Drake Relays titles, while anchoring Baylor to four relay victories, (special 200-1988, 1992, 1993, 1997; special 400-1991, 1996). He ran anchor legs on Baylor's winning 4×200 (1987, 1990) and 4×400 relays (1989, 1990) at the Drake Relays.
He still owns Drake Relays records in the men's special 200 (20.05, 1997) and 400 (44.41, 1996). Johnson was named outstanding performer of the 1996 and 1997 Drake Relays and was inducted into the 1996 Drake Relays Hall of Fame.
Torrence won medals at every major athletics competition, including the Olympics, outdoor and indoor world championships. She was a five-time Olympic medalist, winning three gold medals in the 200 (1992), 4×100 relay (1992, 1996).
She also won the gold medal in the 4×400 relay at the 1993 World Outdoor championships and in the 100 at the 1995 World Outdoor Championship.
Torrence burst on to the track scene at the 1984 Drake Relays. She went on to win more Drake Relays career titles (eight) than any female performer.
She won the invitational 100 in 1984, 1985 and 1987, while capturing the invitational 200 in 1994 and 1996. Torrence also won the invitational 400 in 1991, 1992, and 1995.
After winning the invitational 400 in 1995, Torrence began her victory lap by hurling her shoes into the stands to celebrate becoming Drake Relays career victory leader.
She was inducted into the 1993 Drake Relays Hall of Fame.
During her collegiate career at Georgia, Torrence sprinted to an unprecedented four NCAA championships in 1986-87 in the indoor 55 (twice) and outdoor 100 and 200.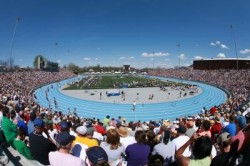 RELAYS TICKETS NOW ON SALE
Tickets are now on sale for the 100th running of the Drake Relays April 22-25.
To celebrate this year's 100th Drake Relays, the first 100 fans to purchase a 2009 Drake Relays All-Session Package for $85 will receive a limited edition souvenir ticket.
The commemorative hologram ticket includes a lanyard with the 100th logo. The All-Session Package includes priority seating for Thursday, Friday, Friday night and Saturday. This is the only year this souvenir ticket will be available.
Tickets can also be ordered by either calling (515) 271-DOGS (3647) or on the Internet at
godrakebulldogs.com
.
Six meet records were set and one equaled during the 99th running of the Drake Relays, while one 2008 world best was set.
Numerous world, national and collegiate records have been set here over the years. Drake Relays fans have seen 14 world records, 45 American records and 59 national collegiate records.
Ticket prices for packages and single ticket purchases ($5 processing fee on all orders)
All-Session Package (Thursday, Friday and Saturday) Reserved Adult $85
All-American Package (Friday Night and Saturday) Reserved Adult $55
Gold Package (Friday Day and Saturday) Reserved Adult $70
Friday and Friday Night Package (Friday Day and Friday Night) Reserved Adult $45
Thursday — General Admission $5
Friday Day — Reserved Adult $35; Reserved Youth (2-18) $20
Friday Night Only — Reserved Adult $20; Reserved Youth (2-18) $10
Saturday (No youth prices for Sat.) — Reserved Adult $40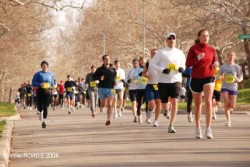 ENTRIES AVAILABLE FOR DRAKE RELAYS 8-K, HALF-MARATHON RACES

Entries are being accepted for the 41st annual Drake Relays On-the-Road 8-kilometer and half-marathon races, which start at 8 a.m. Saturday, April 25.
They are Iowa's oldest road races. Both races will start adjacent to Drake Stadium on Forest Avenue east of 28th Street and will finish near 25th and Carpenter Avenue, adjacent to the Drake Harmon Fine Arts Center.
The first 1,500 runners who pick up the race packet will get special Drake Relays ASICS socks. Runners can choose from three different pigment dyed 100th year race shirts. All finishers in both races will receive special 100th year Drake Relays (On The Roads) medallion.
Last year, 973 runners finished the 8-kilometer race, and 725 half-marathoners completed the course with records set in two age divisions.
Overall winners of the 8-kilometer and half-marathon, both male and female, will receive the 100th edition of the Drake Relays Champions watch and a $100 Asics gift certificate.
Top open finishers of both races will receive cash prizes of $350 for first place, $200 for second place and $100 for third place.
A $100 award bonus will be given to an Iowan who wins either the 8-kilometer or half-marathon races.
Age division awards of $100 will be given to the first runner beating the 8-kilometer or the half-marathon records.
Registration can be completed online until noon April 22 by visiting www.GetMeRegistered.com. The online entry fee is $20 for 8 kilometer or $25 for half-marathon.
Fees are $30 for the 8 kilometer and $35 for the half marathon at the packet pick-up site on Friday, April 24 and $35 and $40, respectively, on the day of the race.
Packets can be picked up at the Drake Harmon Fine Arts Center on 25th Street and Carpenter Avenue on April 24 from 4-7 p.m. and 7-7:30 a.m. on April 25.
The 8-kilometer course is 4.97 miles. Kevin Herd of Coralville, Iowa, owns the men's 8-kilometer record of 23 minutes, 40 seconds, set in 1995. Michelle Ihmels of Ames, Iowa, holds the women's record of 27:39 in 2004.
The half-marathon is 13.1 miles. Matt Gabrielson from Minneapolis, Minn., set the men's half-marathon record of 1:07:45 and Erin Moeller of Cedar Rapids, Iowa set the women's mark at 1:18.00 in 2007.
For more information on the races, e-mail
calmurdock@earthlink.net
or call515-274-5379. Entry forms are also available at DrakeRelays.org.