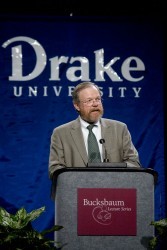 Bill Bryson addresses 4,800 in the Drake Knapp Center.
AUTHOR AND ALUMNUS BILL BRYSON LIFTS SPIRITS BY SHARING HIS WIT AND WISDOM
By Rebecca Lee, AS'10


Best-selling author and Drake graduate Bill Bryson brought laughter and spirit back home to the Des Moines community in his lecture "You Can Go Home Again: An Evening with Bill Bryson," on April 2, as part of the annual Martin Bucksbaum Distinguished Lecture series.
Bryson, who has lived in England for the past 35 years, began his talk with a humorous and convincing list of remembrances to assure the audience — including his mother, he said — that he is from Des Moines. Presented as "You Know You're From Iowa If…" Bryson's qualifications included indifference to tornadoes, a love of corn and "finding nothing funny about Des Moines International Airport."
Bryson proceeded in the wry, witty style readers have come to know from his writing, making observations on laughter and humors in various parts of the world.
"The British can be very, very funny," Bryson said, "but they're even funnier when they don't intend to be. They have this wonderful knack for being totally eccentric in unexpected ways — like complaining.
"For instance, a hotel had a small fire in the kitchen of the hotel during the daytime, which set off the fire alarms. One of the guests wrote a letter of complaint, which said in part, "A loud alarm bell rang, which we found quite disturbing. The noise was so awful we had to leave the building."
Other highlights included a personal anecdote of the 2003 World Series, which Bryson was given the opportunity to cover for a British newspaper. Bryson explained to the editor that he could not attend because his daughter was getting married that week.
The editor's reply was, "Look, Bill, your daughter might get married again."
While Bryson's talk was overall steeped in humor, the author also read an excerpt from the bestseller "Bill Bryson's African Diary," which details his experiences in Kenya. Sharing his words and images from his time in Africa, Bryson brought both laughter and sentiment to the crowd, while illuminating CARE International, which receives all royalties and profits from the book.
In wrapping up the evening, Bryson left with audience with a bit of inspiration in his Ten Tips for Having a Successful Life, which he presents in his annual commencement address at the University of Durham, where he serves as chancellor.
The tips begin, "Number One: Take time to remember that you are alive and special," and continue with, "Number Two: But not that special."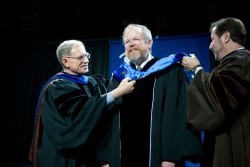 Bill Bryson receives his hood from Drake Provost Ron Troyer, left, and President David Maxwell.
At the start of the Bucksbaum event, Drake President David
Maxwell and Provost Ron Troyer presented Bryson with an honorary Doctor of
Humane Letters degree at the behest of the Drake Board of Trustees. They gave
him with a certificate and draped a hood over his shoulders to complete his
academic regalia.
The ceremony took place before a crowd of 4,800 — the
largest audience ever for the Bucksbaum Lecture Series, which has featured many
notable speakers, such as Jane Goodall, Bill Moyers and Magic Johnson.
Bryson's books include "Walk in the Woods,"
"A Short History of Nearly Everything," and "The Life and Times
of the Thunderbolt Kid," which describes his adventures growing up in Des
Moines during the 1950s. His books have won numerous awards, sold some 10
million copies and have been translated into more than 20 languages.
During his visit to Drake Thursday, Bryson met with students,
had lunch with alumni and friends and held an informal question-and-answer
session at Cowles Library. He also received the Alumni Achievement Award — the
highest honor bestowed by the Drake National Alumni Association.
Bryson, who received his bachelor's degree from Drake in
1977, told the crowd Thursday night that he greatly appreciated the many
honors, adding that, "It only took me seven years to get through
Drake," he said. "If I'd have known they were just going to give me a
degree. . . "
Bryson said he was most grateful, though, for what Drake did for his mother, Mary McGuire Bryson, 96, who lives in Des Moines and attended the lecture.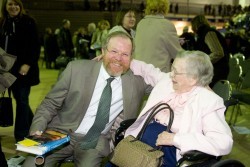 Bill Bryson enjoys a hug from his 96-year-old mother, Mary McGuire Bryson, at the Bucksbaum Lecture.
He noted that she was 10 years old when her mother died
and that her father struggled to raise her and her three siblings while working
as a janitor at the stockyards in Omaha during the Great Depression.
Drake offered her a full scholarship and she became the
first female editor of the Times-Delphic, Drake's student newspaper. Following
her graduation in 1936, she enjoyed a long and distinguished career as a
journalist for a local newspaper, where Bryson's father was a nationally
respected sports writer.
Shortly after Bryson accepted the Alumni Achievement Award
Thursday afternoon, Drake junior Mallory George, editor in chief of the
Times-Delphic, gave Bryson a framed photo of his mother taken when she was a
student at Drake. Accompanying the photo was the following inscription:
"Drake University is proud to recognize the pioneer
spirit of Mary McGuire Bryson (LA'36), the first female editor of the
Times-Delphic and an example of true leadership for all campus women."
Bryson brought the framed photo with him to the Bucksbaum
Lecture and showed it to the crowd before giving it to Drake President David
Maxwell, who presented it to Mary McGuire Bryson.
Read more about Bryson's lecture in the Des Moines Register story and view an online photo gallery of photos from Bryson's visit to campus.
The Martin Bucksbaum Distinguished Lecture Series is made
possible by a gift from Melva and the late Martin Bucksbaum, longtime member of
Drake's governing board. The series will continue next fall when poet Maya
Angelou delivers the 24th Bucksbaum Lecture at 7 p.m. Oct. 8 in the Drake Knapp
Center.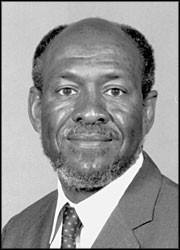 Johnnie Carson
ALUMNUS SELECTED AS NEXT ASSISTANT SECRETARY TO OBAMA
Longtime U.S. ambassador and advisor for Africa, Johnnie
Carson, LA'65, has been nominated as the next assistant secretary of state for
African affairs under the Obama administration. His appointment is awaiting
Senate confirmation.
Carson is an active member of the Drake community, serving
on the Board of Trustees since 2004. He also won the Alumni Achievement Award
in 1993, recognizing his career in foreign service.
He currently serves as national intelligence officer for
Africa on the National Intelligence Council, which he joined in 2006. Carson's
career accomplishments include serving as the U.S. Ambassador to Uganda
(1991-1994), Zimbabwe (1995-1997) and Kenya (1999-2003).
Prior to his ambassadorships, Carson held positions at the
American Embassy in Nigeria, the American Embassy in Mozambique and the
American Embassy in Botswana. He also served as a Peace Corps volunteer in
Tanzania.
In addition, Carson received the Champion of Prevention
Award by the U.S. Centers for Disease Control. The award recognized his
leadership in U.S. government measures to prevent HIV/AIDS in Kenya.
Carson received a bachelor's degree in history and political
science from Drake in 1965. He then obtained his master's degree in
international studies from the School of Oriental and African Studies at the
University of London. Carson was also awarded an honorary Doctor of Public
Service from Drake in 1998.
DRAKE TO HONOR FIVE OUTSTANDING ALUMNI MAY 16
Five Drake University alumni will be recognized for their career accomplishments and loyalty to the university at the annual Drake Alumni Awards Dinner on Saturday, May 16.
The event, which is open to Drake alumni and friends, will begin with a reception at 6 p.m. followed by dinner and the program at 7 p.m. in Parents Hall in Olmsted Center, 2875 University Ave. Cost is $25 per person.
The award winners, who were selected by Drake's National Alumni Association, are listed below:
Jennifer Jacobs Henderson, JO'90 — Young Alumni Achievement Award
Carrie Blumenfeld, JO'00 — Young Alumni Loyalty Award
Bill Bryson, LA'77 — Alumni Achievement Award
Joan Behrendt Middleton, ED'63, GR'77 — Alumni Loyalty Award
Richard Hartig, PH'73, GR'81 — Distinguished Service Award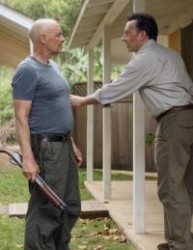 L to R: Terry O'Quinn (John Locke) and Michael Emerson (Benjamin Linus).
DRAKE ALUMNUS PLAYS OUT RIVALRY WITH UNIVERSITY OF IOWA ALUMNUS ON 'LOST'
The developing rivalry between Benjamin Linus and John Locke on ABC-TV's "Lost" is more than just about who controls the island and its mysterious time-travelling power.
It's also an extension of the rivalry between the University of Iowa and Drake University, two of Iowa's largest universities, as the actors who play the characters are alumni of the two schools.
Michael Emerson, FA'76, who plays Ben, received his fine arts degree from Drake. Terry O'Quinn, who plays Locke, attended the University of Iowa in Iowa City in 1974 and 1975.
For much of the series' four-plus season run, the Bulldog has had the edge, as the enigmatic Ben continually manipulated and frustrated Locke's efforts to understand the power of the island until finally strangling the hapless Hawkeye to death earlier this season.
But Wednesday's episode showed the tables might be turning in the Hawkeyes' favor, as an apparently resurrected Locke caught an injured Ben off-guard with the fact that he is now very much alive.
Interestingly, one of the series' current timelines is set in 1977, not long after O'Quinn and Emerson graduated. However, neither Locke nor Linus are in that timeline. They're in the other show's other timeline, which is in 2007.
Both actors are also Emmy winners. Emerson won for Outstanding Guest Actor/Drama in 2001 for his recurring character William Hinks, a psychotic serial killer, on the series "The Practice." O'Quinn won the Best Supporting Actor award in 2007 for his work as Locke.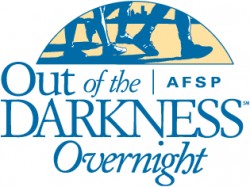 ALUMNI ORGANIZE FUNDRAISING WALK TO RAISE AWARENESS ABOUT SUICIDE PREVENTION
Drake alumni Amanda Kasper, AS'08, and Sandy Myers, BA'07, are embarking on an overnight walk to raise funds and awareness for suicide prevention and to honor the memory of a classmate who committed suicide last year.
"On April 10, 2008, our friend and Theta sister Jennifer took her own life," Kasper said. "That day changed us and nearly everyone we know – forever. Every day since then, we've wondered how we could do more. This is our chance to help Jen's memory live on."
Drake's dean of students and director of counseling have expanded suicide-prevention education for the Drake community.
Funds raised will go to support the American Foundation for Suicide Prevention. The foundation is the leading national not-for-profit organization dedicated to understanding and preventing suicide through research and education, and to reaching out to people with mood disorders and those affected by suicide.
"Participants agree to raise at least $1,000 each to walk, however, our team's goal is to have each participant raise $1,500 each," Kasper added.
For more information or to donate, contact www.TheOvernight.org/team/SafeThoughtsForJen or call 888-The-Overnight.