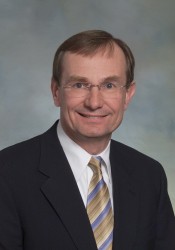 Lon Larson
Lon Larson, the Ellis and Nelle Levitt distinguished professor of pharmacy administration at Drake University, has been selected to receive the 2009 Lawrence C. and Delores M. Weaver Medal of Honor. The award is the highest honor presented by Drake's College of Pharmacy and Health Sciences.
The award ceremony and lecture will take place at 2 p.m. Wednesday, April 22, in Sheslow Auditorium, Old Main, 2507 University Ave. Former students, professional colleagues and friends of the University are invited to this event honoring Larson's dedication and service to Drake and to the pharmacy profession.
This year's award celebrates the 10th anniversary. Previous recipients are: Barry Golin, Richard Hartig, C. Boyd Granberg, Daniel Jorndt, Maxine Beatty, Morgan Cline, Don Davidson, Dar Williams, Richard Morrow and Wendell T. Hill Jr., posthumously.
Dr. Larson earned his bachelor's degree in pharmacy from Drake in 1972 and went on to receive an M.S. and Ph.D. from the University of Mississippi in Health Care (Pharmacy) Administration. Dr. Larson worked in regional health planning and health insurance before beginning his academic career at the University of Arizona. He joined the Drake University faculty in 1991.
He is the only member of Drake's faculty and staff to have twice received the Madelyn M. Levitt Mentor of the Year Award. He was first honored with the award in 1997 and then again in 2007. Larson also has received Alumni Achievement Awards from both Drake and the University of Mississippi.
His academic interests include cost-effectiveness analysis, the ethics and values of health policy and the rationing of health care services. Larson has published more than 75 professional articles and book chapters.
Dr. Larson clearly takes an interest in student learning. His easygoing personality makes him very approachable as he makes his way down the hallway to the coffee pot surrounded by one or more students.
A fellow colleague noted in his letter of nomination, "Most of us try to represent the college well outside the confines of Fitch and Cline Halls, but Dr. Larson has taken this task to a new level. His service and commitment to the University are exemplary. He has effectively assumed leadership roles on many University level committees including chairing the Review and Priorities Advisory Committee during a difficult and pivotal point in Drake's history."
Dr. Larson has served on the Board of Directors of the Iowa Pharmacy Association and of its subsidiary PNI Inc.
He is also a fellow of the American Pharmacists Association and a member of the Academy of Managed Care Pharmacy and the American Association of Colleges of Pharmacy.
One of his nominators concluded with these comments, "I would argue that the quantity and the quality of his teaching, service and scholarship have contributed more to the education and development of our students than any personal financial contribution has ever made."
The Weaver Medal of Honor was established by Lawrence Weaver, a 1949 pharmacy graduate, dean emeritus of the University of Minnesota College of Pharmacy, and his wife, Delores.