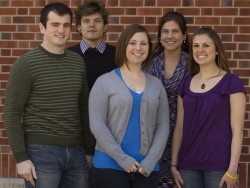 L to R: Mark Micheli, Jake Hukee, Becky Hansen, Kate Baier and Kristin Looney.
"Friday was an historic day for Iowa and an incredible experience for a group of Drake students who got to cover the Iowa Supreme Court's unanimous decision to legalize same-sex marriage throughout the state," said junior Mark Micheli, thinkdsm.com site director.
"Five of us were at the press conference where the decision was announced to the couples involved and we attended the rally that night."
Other students involved are seniors:
Kate Baier
Jake Hukee
Becky Hansen
Kristin Looney
Micheli said the students will continue to cover the decision in the coming weeks through a wide range of print and multimedia.
"This demonstrates that Drake students continue to be at the center of national, even international, news," Micheli said.
THiNK, a news magazine, is a joint senior capstone project for magazine and news-Internet majors produced in the spring semester.