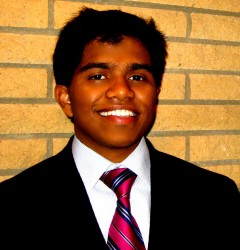 Siva Kasinathan
Siva Kasinathan, a junior at Drake University, has received a Goldwater Scholarship Award for the 2009-10 academic year.
He is one of 278 outstanding students selected by the Goldwater Foundation on the basis of academic merit. Kasinathan was chosen from among 1,097 mathematics, science and engineering students who were nominated by the faculties of colleges and universities nationwide. His one-year scholarship will provide up to $7,500 for tuition, books and fees.
Kasinathan, a resident of Sioux Falls, S.D., is the son of Kasi and Raji Kasinathan and a 2006 graduate of Roosevelt High School in Sioux Falls.
He plans to graduate from Drake in May 2010 with degrees in biochemistry and cell molecular biology and pharmaceutical sciences. From there he intends to enroll in graduate school to earn a Ph.D. in molecular biology, with the goal of conducting research in signal transduction.
Kasinathan's interests focus on the clinical field and using molecular biology capabilities to better understand diseases. His career plans are to become a professor of science and to engage in research at the university level.
"Siva's summer research in molecular sciences at the University of South Dakota and Stanford, coupled with his research here at Drake, have given him substantial undergraduate experience," said Gholam Mirafzal, associate professor of chemistry and Drake's Goldwater faculty representative.
"He is a well-rounded individual with an outstanding record of accomplishments with his classes, research, extracurricular activities and community service," Mirafzal added.
The scholarship, created in honor of the late Sen. Barry M. Goldwater, is designed to encourage outstanding students to pursue their careers in mathematics, sciences and engineering. It is the premier undergraduate award of its type in these fields.