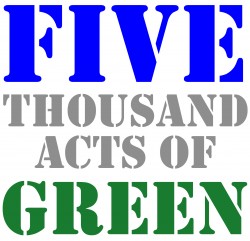 CONTACT: Matt Jurysta,
matthew.jurysta@drake.edu
;
Tory Olson, 515-271-1834,
tory.olson@drake.edu
;
Drake University is launching a weeklong challenge March 23-28 to get students, faculty and staff to each commit to making one change that will help the environment.
The program, 5,000 Acts of Green, is a collaborative environmental campaign spearheaded by students in Drake's Environmental Action League as part of another project in Canada called One Million Acts of Green.
Drake's goal is to have students and staff pledge 5,000 acts of green at the same time — from switching to compact fluorescent light bulbs to walking to work. So far, participants have already completed more than 2,000 green acts. More examples of green acts are available online.
Participants will pledge acts of green during a ceremony at noon Wednesday, March 25, on the Pomerantz Stage in Olmsted Center, 2875 University Ave. The event will feature special speakers and guests, including Des Moines Mayor Frank Cownie, who will sign Drake's 15-foot-long 5,000 Acts of Green banner.
Other speakers who will discuss "Drake's Role in the Environment" are:

Matthew Jurysta, a first-year student and 5,000 Acts of Green event coordinator
Robb Krehbiel, a second-year student and president of DEAL
Drake University President David Maxwell
David Courard-Hauri, Drake associate professor of environmental science and policy
"The idea behind the campaign is that one small act can make a big difference," said Jurysta, an environmental science and policy major from Ontario, Canada.
"It's not about overhauling your life; it's about one act from each individual amassing to a million," he added. "Each green act will be counted toward the total environmental impact across campus."
Drake groups invited to join the initiative
"Organizations, teams, departments and all groups associated with Drake are encouraged to take the challenge both as a unit and as individuals," Jurysta said.
Drake groups that have already committed to the initiative include: Drake's fraternities and sororities and other organizations such as the men's and women's soccer teams, the Student Activities Board, the Environmental Science department and Phi Delta Chi.
Groups will be honored during the week at special ceremonies over the lunch hour when they will be able to sign the University's Acts of Green banners, which will be displayed on campus as a reminder of the accomplishments.


Earth Jam weekend celebration to follow
The 5,000 Acts of Green week will lead into DEAL's Earth Jam weekend celebration.
Activities will continue on Friday, March 27, with a 7 p.m. screening of the film "The 11th Hour," a documentary made by celebrities to raise awareness about little changes that can help the environment. This film, which is free and open to the public, will be shown on Pomerantz Stage in Olmsted Center.
The week will culminate with an 8 p.m. concert on Saturday, March 28. Earth Jam concert featuring popular local bands such as Cloud Cult, Andrew's Ave, Cleo's Apartment and House of Normandie on Pomerantz Stage in Olmsted Center. The concert is free and open to the public.
For more information, log onto the Drake Acts of Green Web site.