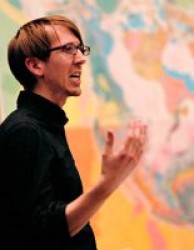 Will Potter
CONTACT: Tory Olson, 515-271-1834, tory.olson@drake.edu
Drake University will host Will Potter, an award-winning
independent journalist from Washington, D.C., on Tuesday, March 24, for a talk
about the impact of federal anti-terrorism legislation on the environmental
movement.
The talk, titled "Greening the War on Terrorism: How
environmentalists became the government's top domestic terror threat," is
free and open to the public. It will begin at 6 p.m. in Bulldog Theater in
Olmsted Center, 2875 University Ave.
Potter's reporting on the Animal Enterprise Terrorism Act
has been recognized by Project Censored "for outstanding investigative
journalism," as one of the top 25 "stories that didn't make the
news" in 2007. He has also received the Mark of Excellence award for
feature writing, presented by the Society of Professional Journalists, and was
recognized by Scripps Howard, Lantern Books and the Press Club of Dallas. Read
more about Potter online at http://www.willpotter.com/.
The March 24 event co-sponsors are: Drake's Center for the
Humanities, the Environmental Science and Policy program and the Drake Law
School.
The lecture is part of Drake's Engaged Citizen Experience
Program, which aims to inform students on global issues and help them
understand the ways in which citizens can confront these challenges through
democracy. This year's theme is: "Poverty, Development and Social
Responsibility: Whose World is it Anyway?"
All program events are free and open to the public. The
remainder of the spring series is listed below:
April
9 — "Rwanda's Giswati Forest: A Forest of Hope or a Conservation
Alamo for Chimpanzees?" by Ben Beck from Great Ape Trust of Iowa,
3:00 p.m., Bulldog Theater in Olmsted Center.
April
21 — Second Annual Engaged Citizen Experience Town Hall Meeting, keynote
address by Mark Kende, the James Madison chair in constitutional law and
director of the Constitutional Law Center, followed by student group
presentations, 6 p.m., Parents Hall, Olmsted Center.
For more information on the Engaged Citizen Experience
program and its events, contact John Burney at 515-271-3804 or john.burney@drake.edu.