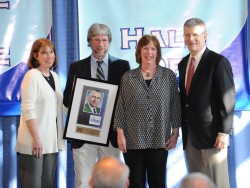 The grandchildren of John L. Griffith, founder of the Drake Relays, accept his MVC Hall of Fame plaque. Pictured left to right are: Kit Coombs, John Griffith and Jody Lapp along with MVC Commissioner Doug Elgin.
John L. Griffith, founder of the Drake Relays, and former
Drake women's basketball standout Lorri Bauman were among seven people inducted
into the Missouri Valley Conference Hall of Fame during a Friday breakfast at
the Scottrade Center in St. Louis.
Bauman was selected as an MVC Institutional Great, while
John L. Griffth entered the Hall of Fame as a Lifetime Achievement choice.
The Lifetime Achievement category honors, when appropriate,
former players, coaches, administrators or alumni who competed, worked or
attended a current league school.
The Institutional Great distinction honors a player, coach
or athletic administrator who competed or worked at a current league school,
when the institution was not a member of the Missouri Valley Conference.
Bauman graduated from Drake in 1984 as the all-time NCAA Division
I women's basketball scoring leader with 3,155 points.
An innovator as well as athletics director and multi-sport
head coach at Drake, Griffith founded the storied Drake Relays — an annual
track and field event that features the very best in collegiate and
international competition. The 100th running of the Drake Relays will be held
April 23-26.
Basketball standout Junior Bridgeman of Louisville, track
and field coaching legend John Coughlan of Illinois State, late head basketball
coach Eddie Hickey of Creighton and Saint Louis and basketball icon John Wooden
of Indiana State also were inducted into the 12th MVC Hall of Fame class.
Bridgeman was enshrined as a Hall of Fame selection, while
Coughlan and Hickey were Coaches Wing choices. Wooden joined Griffith in the
Hall of Fame as Lifetime Achievement choice.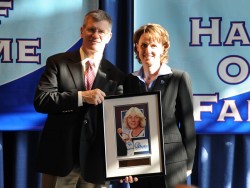 Drake athletic director Sandy Hatfield Clubb accepts MVC Hall of Fame plaque for former Drake women's basketball player Lorri Bauman from MVC Comissioner Doug Elgin.
Bauman
, a Des Moines native, is the tenth Institutional Great selection for The Valley's Hall of Fame.
A four-year starter at Drake, Bauman became the first woman in NCAA Division I history to collect 3,000 points (3,155) and 1,000 rebounds (1,050), and upon her graduation in 1984, she was the NCAA women's all-time scoring leader.
During her career, she established 17 Bulldog records, set seven NCAA Division I marks and registered nine NCAA Division I Tournament records. In fact, one of her NCAA tourney records — points in a game (50 versus Maryland on March 31, 1982) — still stands.
A first-team Gateway Collegiate Athletic Conference choice in 1983 and 1984, she was a Wade Trophy finalist in 1984.
Bauman collected second-team All-America laurels from Women's Basketball News Service in 1982 and earned second-team Freshman All-America honors in 1981.
A No. 1 draft pick of the Chicago Women's League in 1984, she is a member of three Halls of Fame — Iowa Girls High School (1980), Des Moines Register Iowa Sports (1992) and Des Moines B'nai B'rith (2002).
Griffith
, a native of Mount Carroll, Ill., wore many hats with the Bulldogs, serving as athletics director, head football coach and track and field coach from 1908-15.
In 1910, he founded the Drake Relays — the most successful regular-season sporting event held by an MVC school — which annually attracts over 36,000 fans, 9,000 track and field athletes and 50 Olympians.
He served as director of the event from 1910 to 1918.
The director of physical education for the entire U.S. Army during World War I, he was the first commissioner of the Big Ten Conference, serving from 1922 to 1944.
He had just been re-elected to another five-year term when he died on Dec. 7, 1944.
Griffith was the first membership chairman of the NCAA from 1933-37, before the NCAA had an executive director or president as it does now.
A four-sport letterman at Beloit College, he is a member of the Helms Foundation Hall of Fame, the U.S. Track and Field Hall of Fame and the Beloit Hall of Fame
The 1974 and 1975 Missouri Valley Conference Player of the Year, Bridgeman was one of just seven student-athletes in league history to earn back-to-back MVP honors.
"The Missouri Valley Conference has always been progressive in its approach to collegiate athletics, and our Hall of Fame ceremony provides the stage to honor six individuals who were instrumental in the development of the Conference and its member schools," said Commissioner Doug Elgin, who is in his 21st year with The Valley.
"These six individuals all played a significant role — at the institutional, conference, national and/or international levels — in the evolution of collegiate athletics. These individuals collectively span a century of greatness, and we're proud to honor them for their accomplishments as Missouri Valley Conference ambassadors."