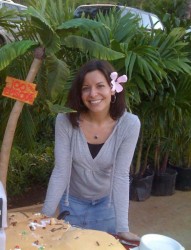 Kelly Nass
SJMC grad 'Lost' on the island of Oahu
By Rebecca Lee
As production coordinator, Nass holds the responsibility of ensuring that the crewmembers have everything they need to film the show. Each day has different requirements, which may include arranging for special equipment, including an underwater camera, or extra personnel, such as stunt-doubles and on-set tutors for younger actors.
"It's not always a glamorous job and many times it's underappreciated, but it is an essential position," Nass said. "People don't realize how much work goes into a TV show."
Yet despite her duties and 12-hour workday, holding a position at an award-winning television show does have its perks.
"The best part of the job is moving around to different shows, meeting new people and constantly learning new things on a daily basis," Nass said. "I never know what might happen."
Plus, on any given day, Nass can really escape from work, enjoying the hiking, beaches, and beautiful scenery.
"The weekends are like mini vacations every week," Nass explained. "When my friends are complaining about the snow in the Midwest, I might be on the beach getting a tan in 80-degree sunshine. They hate to hear that!"
Originally from Morehead, Ky., Nass graduated from Drake with a bachelor's degree in broadcast news and concentration in psychology. Looking for success as an anchor, she started as a tape editor at KCCI Channel 8 in Des Moines before abandoning news for a career in entertainment TV.
The journey began with she moved to Los Angeles in 2000, where after two months of unemployment, she found her first job as a production assistant for "Family Feud."
"People told me I couldn't get a job in L.A. without knowing someone," Nass said, "but I sent my resume out to about 100 shows, and that one bit!"
She then went on to work for shows, including "7th Heaven," "Judging Amy" and "Real World," before serving as assistant production coordinator for the TV movie, "Romy and Michelle: Behind the Velvet Rope."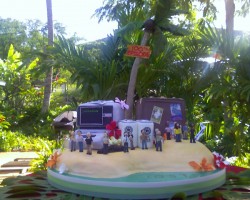 Kelly and the "Lost" crew recently celebrated the 100th episode of with a colorful cake.
Working for ABC/Disney, Nass was then hired as production coordinator for "Ghost Whisperer," where she stayed for nearly 4 seasons before a former colleague commissioned her to work on "Lost." While Nass reports it was difficult to leave her home in Los Angeles, the offer was too good to refuse.
Last December, she joined the "Lost" crew and cast, which includes Michael Emerson, FA'72, who plays the role of Ben Linus.
In the wake of her recent success, Nass has only the most optimistic of advice for Drake students, who may be anxious about making their post-graduation dreams come true.
"Persistence pays off," she said. "It may not come easy, and you should always have a back-up plan, but don't give up on your dreams without doing everything you can to achieve them."