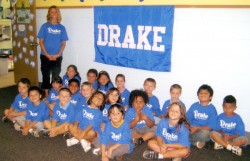 Students in alumna Vanessa Stalter's first-grade class proudly sport their Drake T-shirts.
Alumna brings Drake to first-grade students
Twenty-one first grade students in Des Plaines, Ill., are proud to call themselves little Bulldogs. In the hallway outside their classroom, near a Drake University banner and sign that reads "I am going to college," are photos of each student holding a Drake pennant.
The students recently were adopted by Drake after their first-grade teacher Vanessa Stalter, ED'01, wrote a letter to Drake President David Maxwell and SOE Dean Jan McMahill requesting that her alma mater adopt her class as part of the project.
The adoption is part of an initiative at Orchard Place Elementary School in Des Plaines. Teachers and school leaders are committed to making Orchard Place a "No Excuses University School," in which the possibility of a college education is a reality for students.
Every Friday during the school year, Stalter's students wear Drake T-shirts for college day and sport Drake folders, pens and flags. Students' parents also are becoming Drake fans, thanks to the project.
"At my open house night, I gave parents Bulldog packets with information along with Drake pens," Stalter said. "They were so excited to hear about Drake and the idea that we are portraying to students that they can and will be able to go to college."
The first graders also learned a Drake chant to sing at assemblies.
"I am college bound. I am college bound. Hi-ho the derry-o, I am college bound. I can go to Drake. I can go to Drake. Hi-ho the derry-o, I can go to Drake."
"The students' attitude about school has changed this year and they are so excited to talk about college," Stalter said.
Meanwhile, back on Drake's campus, third-year education student Andrea Tate from Des Moines, dreamed up the idea of strengthening Drake's relationship with the Orchard Place students. She and other SOE students began writing letters to them and began a pen pal program.
The first letters were mailed just before the holiday break to allow the students to introduce themselves to their new friends.
Stalter said the children were excited to have such a personal connection to Drake students.
"I'm a firm believer in college prep at an early age and I see this pen pal program as a great way to boost Drake's sponsorship," Tate said.
Eventually, Tate hopes to create a video for the students with a tour of Drake's campus featuring their Drake pen pals.