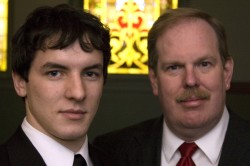 Joshua Strief and Bruce Perry
Drake University students and faculty will unite their voices with those from the Heartland Youth Choir and the Drake University Community School of Music to help economically challenged young singers reach their musical potential.
More than 60 singers will share their talent as they present "To Music 2009" at 7:30 p.m. Friday, March 6, on the Jordan Stage in Drake's Sheslow Auditorium in Old Main, 2507 University Ave.
Although admission to the performance is free, audience members will have the opportunity to donate to the scholarship program to help students participate in the Heartland Youth Choirs and Drake's Community School of Music (DUSCOM).
All donations will go directly to pre-college singers with demonstrable need and talent. Some will assist with tuition for the Heartland Youth Choir program and some will help singers study privately at the Drake University Community School of Music.
"Staging a benefit is a wonderful opportunity to use music to help others develop their talent," said Drake sophomore Joshua Strief, organizer of the concert and a music and political science major from Sac City, Iowa. "This is especially important because economic trends make it difficult for some families to afford music lessons."
"Music education is at a critical juncture," said co-organizer Bruce Perry, a teaching artist at Drake who will perform at the concert. "Iowa could well run out of music teachers unless something is done to encourage more young people to enter the profession. Working together to raise funds to assist young singers is a vital way we can assure continued quality vocal education for generations to come."
The concert will feature a variety of music, including duets and trios from "Tales of Hoffman," "La Traviata," "The Elixir of Love" and "La Forza del Destino."
Performers will include:
The Heartland Youth Chamber Choir, directed by Barbara Sletto
The Drake Community School of Music Show Choir, directed by Sarah Jorgenson
Drake voice faculty and adjunct faculty members Christine Blanner, Edward Corpus and Ann Cravero
Drake Community School of Music soloists and teacher Rebecca Beierschmitt
Drake students Philip King, Elizabeth Moldovan and Alex Zulauf
For those unable to attend the concert, tax-deductible donations, payable to Heartland Youth Choir, may be sent to Bruce Perry, 235 Fine Arts Center, Drake University, 2507 University Avenue, Des Moines, Iowa, 50311-2011. For more information, contact Strief at 712-660-0448 or Perry at 515-979-5620.