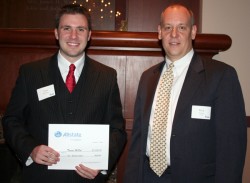 Thomas McNab, left, displays the Allstate Award he received from Rick Turano, regional counsel for the West Central Region of Allstate Insurance Co
Business student receives award from Allstate Foundation
Thomas McNab of St. Charles, Mo., recently received a $1,000 award from the Allstate Insurance Co. with the support of the Allstate Foundation.
The award was presented to McNab in conjunction with the new Allstate Risk Management Lecture Series at Drake University in Des Moines, Iowa. The lecture series was made possible by a $15,000 gift from The Allstate Foundation to Drake's College of Business and Public Administration.
McNab, 20, is a 2007 graduate of Francis Howell North High School and the son of Kathleen and William McNab of St. Charles.
He was selected for the award because of his academic achievements. McNab has earned a 3.94 cumulative grade-point average while having two joint majors in actuarial science and finance and actuarial science and accounting with a concentration in insurance.
"It was an honor to represent Drake in front of Allstate, a company that recruits heavily at the University," McNab said.
McNab received the award at a dinner that preceded the first Allstate Risk Management Lecture at Drake on Feb. 12.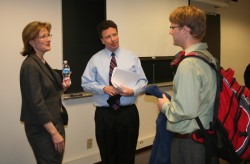 Joan Lamm-Tennant chats with professor Tom Root and senior Gregory Seko after speaking to one of Root's classes.
The inaugural lecture, titled "Enterprise Risk Management and the Current Financial Crisis," was presented by Joan Lamm-Tennant, global chief economist and risk strategist for Guy Carpenter & Co. LLC and an adjunct professor at the Wharton School at the University of Pennsylvania.
"Joan Lamm-Tennant was extremely knowledgeable about the situation and shared a lot of insight into what we can do to improve the economy," McNab said. "She noted that a lot of what's happened is going to fall on us as students when we go out into the market to find jobs. Yet she also said she's excited to see what students will bring to the marketplace and the economy in the future."
During her visit to Drake, Lamm-Tennant shared her expertise with students in several finance classes. She also had lunch and dinner with both undergraduate and graduate students, faculty and distinguished guests.