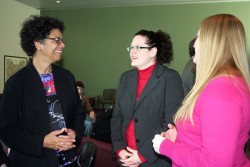 Professor Phoebe Haddon chats with law students Lindsay Hughes and Emily Reninger at a reception following her lecture.
Professor Phoebe Haddon of Temple Law School, one of the nation's leaders on promoting diversity in higher education, gave a presentation on racial bias to an overflow crowd at Drake Law School on Feb. 19.
Listen to the talk online.
"I enjoyed meeting Professor Haddon and gaining the perspective she presented to Drake Law School," said Tiffanee Hokel, a senior from Webster City, Iowa, and a prospective Drake Law School student. "I found her to be inspirational in her presentation, especially since this is Black History Month."
In her talk, Haddon discussed the history of efforts to desegregate schools in the United States. She focused mainly on litigation that took place in Denver, Colo., because her aunt was one of the leading activists pushing for racial equality and integration there.
"Professor Haddon emphasized that ordinary citizens are the key to bringing about social justice through litigation, if necessary, but also through the political process," said Mark Kende, director of the Constitutional Law Center at Drake.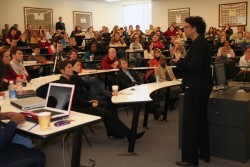 Phoebe Haddon addresses an overflow crowd during her presentation.
Haddon highlighted Denver's history of de facto racial segregation and even the municipal government's link to groups like the Ku Klux Klan back in the 1920s and 1930s. These kinds of battles were therefore not limited to Southern states, she said.
She also emphasized that even with the election of President Barack Obama, the fight for racial equality is far from over.
"The presentation was important because it was open to the public and reminds us all that we can make a difference in bringing about greater racial equality and a more just society," Kende said.
He invited Professor Haddon to give the presentation as part of the Drake Constitutional Law School Distinguished Lecture Series.
"The Constitutional Law Lecture Series is a great way to see constitutional law in action," said Lindsay Hughes, a second-year law student from Chandler, Ariz. "It is nice to see how classroom learning applies in the real world. The personal interaction and having the ability to talk to a renowned speaker validates the learning process."
The series also featured speakers: Professor Orin Kerr of George Washington Law School and Juan Mendez, president of the International Center for Transitional Justice.
The center's annual symposium is scheduled for Saturday, April 4, from 8:30 a.m. to 1 p.m. in room 213 of Cartwright Hall. This year's topic is "Global Perspectives on Religion, the State, and Constitutionalism."
Read more online.