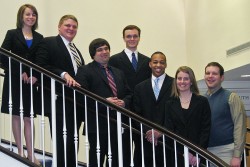 Drake Undergraduate Mock Trial Team 488 (L to R): Sarah Francis, Van Everett, Tyler Buller, Nicholas Janning, Kyair Butts, Anna DeVries and Michael Nelson.
MEDIA CONTACT: Tyler Buller,515-975-0191, tyler.buller@gmail.com'; Tory Olson, 515-271-1834, tory.olson@drake.edu
Drake Mock Trial Team 488 recently finished in the top
five teams at the regional tournament at Washburn University in Kansas on Feb. 20-22 and
will advance to the Opening Round Championship Series next month.
The team will go on to compete in the championship series
on March 12-15 at the University of Missouri – Kansas City.
"There is tremendous pressure to perform well at the
regional tournament, so it's validating that our successes earlier in the
season carried on through this weekend," said co-president and senior
Tyler Buller, a politics major from Urbandale.
Although Drake has had a very successful invitational
season, including a first-place finish at the Harvard Crimson Classic last November and an undefeated finish at the
Macalester Trials last October, this was the
first tournament that counts toward advancement in the official season.
"The regional tournament offers a great learning
experience for the first-year members of our program, as they are often
competing against upper-class students from some of the strongest programs in
the Midwest," said co-captain of Team 489 Christopher Bartak, a sophomore
actuarial science major from Ainsworth, Neb.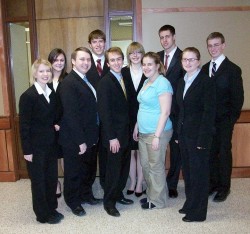 Team 489 (front L-R): Megan Verhalen, Daniel Van Sant, Nick Dorando, Danielle Wagner and Valerie Whiting; (back L-R): Jessica Wagner, Christopher Bartak, Nora Last, Evan Clark and Gregory Boal.
Three members of Team 489 receive individual awards

Drake's Team 489 earned individual attorney awards for first-year students Nora Last, a law, politics and society major from Minneapolis, and Gregory Boal, a psychology and law, politics and society major from Des Moines.
Daniel Van Sant, a sophomore politics and international relations major from Malvern, Iowa, also received an award for his portrayal of a politician in the fictional state of Midlands.
This year's case is a lawsuit alleging libel and defamation. Drew Walton, a former candidate for governor in Midlands, was accused of murdering a debate opponent on live television. Students portray witnesses and act as attorneys on behalf of both the plaintiff and the defendant.
The Drake undergraduate mock trial team has been student-coached for the last seven years, and its leadership has been composed of seasoned upperclassman officers instead of an outside attorney coach.
The Drake program is one of the only nationally competitive organizations that is entirely student-coached, said senior Michael Nelson, a senior politics and English major from Gowrie, Iowa.
Members of Team 488 are:
Tyler Buller, senior
Van Everett of West Des Moines, senior
Michael Nelson, senior
Nicholas Janning of Carroll, junior
Kyair Butts of Des Moines, sophomore
Anna DeVries of Maurice, first-year student
Sarah Francis of Carroll, first-year student
Members of Team 489 are:
Gregory Boal, first-year student
Nora Last, first-year student
Nick Dorando of Ann Arbor, Mich., first-year student
Valerie Whiting of Brooklyn Park, Minn., first-year student
Christopher Bartak, sophomore
Daniel Van Sant, sophomore
Jessica Wagner of Burnsville, Minn., sophomore
Evan Clark of Shanghai, China, sophomore
Megan Verhalen of Milwaukee, Wisc., sophomore
Danielle Wagner of Des Moines, junior