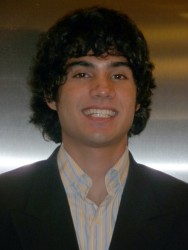 Micah Wright, winner of the 2008 Drake Concerto Competition.
The Drake University Symphony Orchestra, conducted by Akira Mori, will perform a free concert on Saturday, Feb. 28, featuring Drake senior Micah Wright of West Des Moines on clarinet.
The concert will begin at 8 p.m. on the Jordan Stage in Sheslow Auditorium in Old Main, 2507 University Ave.
Wright, the winner of the 2008 Drake Concerto Competition, will be the featured soloist in the performance of Mozart's Clarinet Concerto.
He also was one of 140 artists nationwide selected to participate last month in the National Foundation for Advancement in the Arts youngARTS program in Miami.
The orchestra also will perform "Fingal's Cave Overture" by Mendelssohn and Tchaikovsky's Symphony No. 2.
This concert will be the orchestra's third under the direction of Mori, a native of Japan who joined Drake last fall as director of orchestral studies and assistant professor of music.
His previous conducting engagements include the Tokyo Symphony, Tokyo Chamber Orchestra and Minnesota Orchestra, among others. He also has served as a professor and conductor in music schools such as Indiana University, University of Minnesota and Tokyo College of Music.
Mori received his bachelor's degree in flute performance from the New England Conservatory and master's degree in orchestral conducting from Indiana University.
For more information about the Feb. 28 concert, call 515-271-3975.