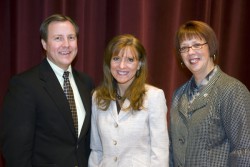 L to R: Chuck Phillips, Renae Chesnut and Dean Raylene Rospond celebrate the awards at the recent ceremony.
MEDIA CONTACT: Tory Olson, 515-271-1834, tory.olson@drake.edu
Drake University professors Chuck Phillips and Renae Chesnut were honored with prestigious faculty awards at Drake's Pharmacy and Health Sciences Day on Feb. 17.
Phillips received the Hartig Distinguished Professor Award and Chesnut accepted the Hartig Faculty Development Award.
The Hartig Distinguished Professor Award recognizes a pharmacy faculty member who is distinguished himself/herself in teaching, scholarship, service or practice during the previous academic year. Specific emphasis is given to accomplishments that demonstrate uniqueness, innovation and creativity. The award winner receives a crystal award and an honorarium.
The Hartig Faculty Development Award and program supports a faculty member's development activities that educate, encourage and enhance entrepreneurialism in community pharmacy practice or ownership.
Both Phillips and Chesnut have been members of Drake's faculty since 1993. They have established themselves as respected teachers and accomplished scholars within the College of Pharmacy and Health Sciences.
Phillips, assistant dean for assessment, has served as chair of the college's Self Study Committee since 2007. This committee works to ensure that the college meets standards set by the Accreditation Council for Pharmacy Education (ACPE). As chair, Phillips developed and facilitated a self-study process that was inclusive of all stakeholders. His ability to seek input, listen and incorporate data and reflection has produced a quality document that will reflect the work of the college when the council visits campus this spring.
Phillips was recently recognized with a 2007 ACPE Board Commendation for his service on the Institutional Research Advisory Committee. He has been a licensed pharmacist since 1988. He also earned a Ph.D. in pharmacy from the University of Nebraska Medical Center and a Ph.D. in pharmacy administration from the University of Oklahoma.
Chesnut is associate professor of pharmacy practice and associate dean for academic and student affairs. She is a founding member and team leader of the Drake Entrepreneurial Leadership Tools for Advancement (DELTA Rx) Institute. The mission of the DELTA Rx Institute is to install a spirit of change and innovation in the pharmacy profession.
Chesnut will focus her Hartig Development Award program on developing her skills as an entrepreneurship educator.
Before joining Drake, she worked for Eli Lilly & Co. in Indianapolis for eight years as a pharmaceutical sales representative. Chesnut holds a B.S. in pharmacy, an M.B.A. and a Doctor of Education (Ed.D.), all from Drake.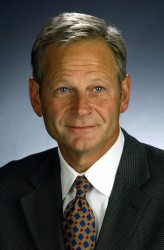 Richard Hartig
Hartig: loyal alumnus committed to education
The Hartig Pharmacy Fund for Drake's College of Pharmacy and Health Sciences, established by Richard and Brenda Hartig, supports the distinguished professor award and faculty development. Hartig, a 1973 pharmacy graduate, who received a master's degree in 1981, and his wife, Brenda, established the fund in 2002.
Hartig Drug Stores based out of Dubuque is America's second oldest continuously operated family drug chain, caring for customers in three states for more than 100 years through traditional drug stores, a long-term care pharmacy, Finley-Hartig Homecare and hospital partnerships. For more information, visit
www.hartigdrug.com
.