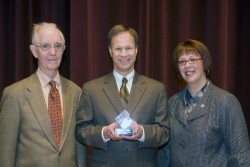 L to R: C. Boyd Granberg, Robert Soltis and Dean Raylene Rospond celebrate the inaugural award.
Drake University professor Robert Soltis recently was named the first recipient of the C. Boyd Granberg Professional Leadership Award for his service to professional pharmacy organizations.
The award, which recognizes professional leadership, was presented during the College of Pharmacy and Health Sciences' Pharmacy and Health Sciences Day on Tuesday, Feb. 17. The award is designed to recognize a faculty member for professional organization leadership, demonstrated professional leadership traits and commitment to advancing the pharmacy profession.
Soltis received a commemorative award, a professional development stipend and will work to foster professional involvement and leadership in faculty and students. He will give a lecture to students participating in the college's Student Leadership Series.
Soltis, professor of pharmacology and department chair of pharmaceutical sciences, has taught pharmacology at Drake since 1992. He was named Teacher of the Year in the college in 1996 and again in 1998 and 2009.
He recently has completed a three-year term leading the Biological Sciences Section of the American Association of Colleges of Pharmacy. Soltis is an active professional and serves as a member of the Academic Affairs Standing Committee of the American Association of Colleges of Pharmacy. He previously served on the Nominations and Finance committees for this association. In addition, he is regional councilor of the Rho Chi Society.
Soltis earned a B.S. in pharmacy at Butler University and a Ph.D. in pharmacology and toxicology from Indiana University.
The C. Boyd Granberg Professional Leadership Award was established in 2008 by Drake pharmacy alumni in honor of C. Boyd Granberg of Des Moines, a longtime faculty member and dean emeriti of the college.
Granberg is a leader in the profession having served as president of the Iowa Pharmacy Association, director of Accreditation Council on Pharmacy Education and editor of the American Journal of Pharmaceutical Education.