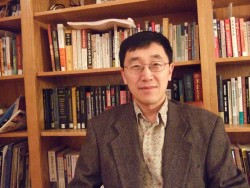 Bai Gao
CONTACT: Tory Olson, 515-271-1834, tory.olson@drake.edu
Duke University Professor of Sociology Bai Gao will present
a lecture at Drake University on the global economic crisis on Tuesday, March
10.
The lecture, "The U.S., China and the Global Economic
Crisis: Partnership for a Solution," will begin at 6 p.m. on the Pomerantz
Stage in Olmsted Center, 2875 University Ave.
The event, which is free and open to the public, is part of
Drake's lecture series on the United States and the World.
Gao will discuss the origins of the global economic crisis
and possible solutions to the problems that countries are facing. He also will
talk about the alliance between the United States and China, free trade issues
and how the relationship could help rebuild and restore both economies for a
healthier future.
Before coming to the United States, Gao worked as a research
fellow at Beijing University. His major areas of research interest are economic
sociology, political economy, comparative historical sociology, Japanese
society, Chinese society and East Asian capitalism.
Gao received his B.A in Japanese language and literature and
an M.A. in comparative higher education from Beijing University. He also holds
an M.A. and a Ph.D. in sociology from Princeton University.
Gao's lecture is sponsored by the Drake University Center
for Global Citizenship, the Chinese Association of Iowa and Iowa Chinese in
Agriculture.
For more information, visit the Drake Center for Global
Citizenship Web site at https://wwww.drake.edu/international/cgc/or call 515-271-2117.