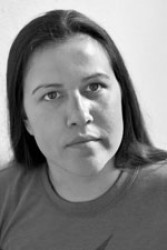 Natalie Diaz
Poet Natalie Diaz will read selections from her poetry and fiction as part of Drake University's Writers and Critics series on Tuesday, Feb. 24.
The event, which is free and open to the public, will begin at 7:30 p.m. in the Cowles Library Reading Room, 2725 University Ave.
Diaz is a former professional basketball player-turned poet, having played throughout Europe and Asia before earning her master's in fine arts degree at Old Dominion University in Norfolk, Va. Her work has been featured in the North American Review, Pearl Magazine and Touchstone.
She is now working on poetry and fiction manuscripts. Born and raised in the Fort Mojave Indian Village in Needles, Calif., Diaz also has undertaken a Mojave translation piece.
The Drake series will continue through the spring, featuring the following writers:

April 1 — Pablo Medina, author of five collections of poetry, three novels, a memoir and a book of translations, 7:30 p.m., Cowles Library Reading Room.
April 18 — Des Moines National Poetry Festival: Carolyn Forché, author of four books of poetry, 7:30 p.m., Sheslow Auditorium, Old Main, 2507 University Ave.
The Writers and Critics Series is sponsored by the Drake English Department and made possible by a grant from the Drake Center for the Humanities. For more information, contact Jennifer Perrine at 515-271-4161 or jennifer.perrine@drake.edu