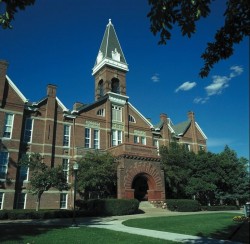 CONTACT: Lisa Lacher, 515-271-3119,
lisa.lacher@drake.edu
Drake University has received two grants totaling $22,500 from Prairie Meadows Racetrack and Casino through its Community Betterment Grant Program.
The largest grant of the two grants — $12,500 — will help the Drake Law School update the computer and audiovisual equipment in the Legal Clinic courtroom in the Neal and Bea Smith Law Center, 2400 University Ave. The improvements will include new courtroom cameras, a recorder and projector.
"We are pleased to receive this funding from Prairie Meadows, which will help us replace outdated equipment in our courtroom," said Jerry Foxhoven, director of the Drake Legal Clinic and the Middleton Center for Children's Rights.
"The courtroom is a key facility for our clinical programs, plus it is often used by Polk County nonprofit agencies and programs at no charge."
The second grant — $10,000 — will enable the Drake Adult Literacy Center to start an innovative program to help its students acquire computer literacy skills and provide technology-assisted learning that will make them better able to achieve educational goals and become more employable and productive.
The funding will enable the center to buy computers and software and hire a part-time project manager to work with community partners to integrate the technology into GED preparation, job training and supports. The center is located in the Drake School of Education at 3206 University Ave.
"With the help of Prairie Meadows, we expect to increase the employability and productivity of adults with low literacy skills," said Anne Murr, coordinator of the Drake Adult Literacy Center. "This will enable them to contribute more to Iowa's economy and to the well-being of their families."
Drake officials will accept checks for the two grants at a luncheon on Thursday, Feb. 19, at Prairie Meadows Events and Conference Center in Altoona.
Prairie Meadows Community Betterment Grants are awarded to projects in one of four categories: arts and culture, economic development, education and human services. Since 1996, Prairie Meadows has contributed more than $399 million to promote these areas in Iowa.