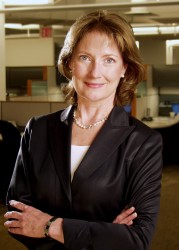 Joan Lamm-Tennant
Drake, Allstate launch Risk Management Lecture series
Joan Lamm-Tennant, global chief economist and risk strategist for
Guy Carpenter & Co. LLC,
will present a lecture on "Enterprise Risk Management and the Current Financial Crisis" at Drake University on Thursday, Feb. 12.
The lecture, which is free and open to the public, will start at 7 p.m. in Shelsow Auditorium in Old Main, 2507 University Ave.
The event is part of Drake's new Allstate Risk Management Lecture Series, which is made possible by a $15,000 gift from
The Allstate Foundation
to the College of Business and Public Administration. The series will continue with another lecture next fall.
As part of her lecture, Lamm-Tennant will provide insight into what could have caused the financial crisis, risk management's role in the economy and what the future holds in 2009.
She will address questions such as: "Was this a failure of financial risk models?" and "Was this about management's inability to use risk models appropriately for managing risk and communicating risk positions amongst internal and external constituents?"
During her visit to Drake, Lamm-Tennant will share her expertise with students in several classes. She also will have lunch and dinner with both undergraduate and graduate students, faculty and distinguished guests.
In addition to her work at Guy Carpenter, Lamm-Tennant teaches as adjunct professor at the Wharton School at the University of Pennsylvania and is a frequent speaker at industry events. She also hosts quarterly Webcasts for Chubb Insurance on trends in the insurance industry.
Her publications have appeared in professional journals, including the Journal of Business and Journal of Risk and Insurance. Previously, she served as the Thomas G. Labrecque chair in business and professor of finance at Villanova University.
She is now a member of Guy Carpenter's Specialty Executive Group, which coordinates and implements aspects of its global business plan. Guy Carpenter & Co. LLC is a subsidiary of Marsh and McLennan Companies.
Lamm-Tennant received a bachelor's degree in accounting and an M.B.A. in finance from St. Mary's University. She also holds a Ph.D. in finance, investments and insurance from the University of Texas at Austin.
Prior to joining Guy Carpenter, Lamm-Tennant was senior vice president of General Reinsurance and president of General Re Capital Consultants — an independent consulting group capitalized by General Reinsurance Corp., which advises insurance companies on enterprise risk and capital management.
She was portfolio strategist for the asset management operations of General Reinsurance, serving both internal and external accounts. She previously worked in finance and systems at United States Automobile Association.
Her other roles include:
Director of Selective Insurance (former chair of the Audit Committee during compliance initiatives related to the Sarbanes-Oxley Act)

Director of Ivans, a private technology company serving the insurance industry

Member of National Bureau of Economic Research, Cambridge, Mass.

Member of the Brookings Institute, Washington, D.C.

Member of the International Insurance Society
She served on the boards of Turner Investment Partners, Focus Fund, Philadelphia Financial Analysts Society, American Risk and Insurance Association and Charter Oak State College.