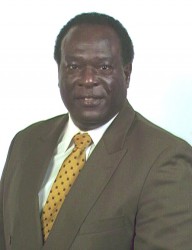 Dolph Pulliam
FORMER DRAKE STAR PULLIAM TO BE INDUCTED INTO INDIANA BASKETBALL HALL OF FAME
Former Drake University basketball standout Dolph Pulliam will be among 14 athletes to be inducted into the Indiana Basketball Hall of Fame in New Castle, Ind., on March 25.
The ceremony will take place at the Primo Banquet Hall, which is located on the south side of Indianapolis, Ind.
"This was a total surprise," said Pulliam, who is director of community relations at Drake, while also serving as a basketball radio analyst for the Bulldogs. "I had never thought about being enshrined. It is the biggest honor I have ever received, especially in light of the other players being inducted. So this is quite an honor for my family."
Pulliam was a two-year staring forward at Roosevelt High School in Gary, Ind., earning all-state honors while leading the team to the semifinal round of the 1965 Indiana State High School Tournament.
He was a three-year standout forward at Drake from 1966-69, guiding the Bulldogs to the 1969 NCAA Final Four where the team finished third.
Pulliam will have a plaque on permanent display at the Indiana Basketball Hall of Fame located in New Castle, Ind.
Current NBA coaches Gregg Popovich of the San Antonio Spurs (Merrillville, Ind.) and Scott Skiles of the Milwaukee Bucks (and 1982 state champion Plymouth) also will be inducted.
Popovich, who played college basketball at the Air Force Academy, is one of five men who have coached four or more NBA championship teams.
Skiles, an All-American and Big Ten Player of the Year for Michigan State, has a spot in Indiana high school lore for his long game-tying basket at the end of regulation time and 39-point contribution to Plymouth's 75-74 double-overtime upset of Gary Roosevelt in the 1982 state championship game.
2009 INDUCTION CLASS ANNOUNCED BY THE INDIANA BASKETBALL HALL OF FAME
Denny Bishop, South Bend Central, 1958

Steve Bouchie, Washington, 1979

Phil Cox, Connersville, 1972

Fred Fleetwood, Southport, 1962

Dick Hickox, Fort Wayne North, 1956

Bill James, Scottsburg, 1969

*Charles Jenkins, Providence, 1957

Ted Kitchel, Cass 1978

Gregg Popovich, Merrillville, 1966

Dolph Pulliam, Gary Roosevelt, 1965

Wayne Radford, Indianapolis Arlington, 1974

Bob Sakel, Jasper, 1945

Scott Skiles, Plymouth, 1982

Vaughn Wedeking, Evansville Harrison, 1967

Steve Alford, New Castle, 1983
**Indianapolis Washington Team 1969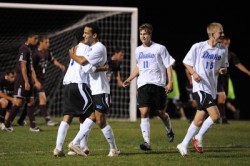 COLLEGE SOCCER NEWS RECOGNIZES DRAKE MEN'S SOCCER TEAM
The College Soccer News recently honored the Drake men's soccer team as one of eight Division I programs from across the country to have a Season to Remember.
The men's soccer team finished the 2008 campaign with a school-record 13 victories and advanced to the NCAA tournament for the first time in program history. The Bulldogs closed out the season nationally ranked for 10 consecutive weeks and finished the 2008 campaign at No. 22 in the National Soccer Coaches Association poll and No. 23 in the College Soccer News poll.
A school-record 10 players earned All-Missouri Valley Conference honors and four players were named to the NSCAA All-Midwest Region team.
Academically, the Bulldogs were among the nations' brightest as the team was honored as a College Team Academic Award Winner for 2008. Six players were named to the MVC Scholar-Athlete team and junior midfielder Kevin Shrout (Lee's Summit, Mo./Lee's Summit) was named to the NSCAA and Adidas Senior College Men's Scholar All-America Soccer Team.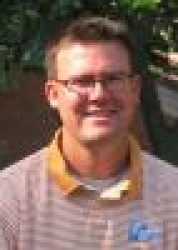 Joe Burger
The collegiate soccer Web site also recognized Drake assistant coach Joe Burger as of the top 12 assistant coaches in the country.
Burger just completed his third season as assistant coach for the Drake soccer program. He oversees all aspects of the Bulldogs soccer program, including the team's academic progress. The Bulldogs earned the NSCAA/Adidas Team Academic award for both the past three academic years.
"What a tremendous honor, to be recognized with other great coaches and for all the hard work that assistant coaches put in," Burger said. "This honor is more of a reflection of the terrific season that we had and the hard work of so many; coach Holmes, the players and the support staff are just as deserving of recognition for this season's success."
"Joe has been a tremendous asset to the program," said Drake Head Coach Sean Holmes. "He is a dogged recruiter and has done a great job connecting with our players."
Burger, who is pursuing his master's degree in public administration at Drake, holds a USSF 'B' coaching license.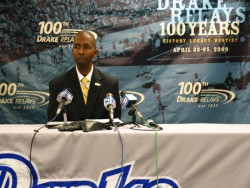 Relays Director Brian Brown discuses the Drake Relays Madness pool, similar to the NCAA March Madness, at Monday's news conference.
INITIAL LIST OF TOP DRAKE RELAYS ATHLETES OF CENTURY ANNOUNCED
With 100 days counting to the 100th running of the Drake Relays April 23-25, meet officials unveiled an initial list of athletes who have been selected as the top 10 Drake Relays men's and women's athletes of the century.
Steve Scott, who is one of the greatest milers in track and field history, and decathlete Kip Janvrin, who is the Drake Relays all-time career individual victory leader with 17 titles, were the first group of top 10 men's athletes of the century disclosed.
Four-time Olympic high jumper Amy Acuff, along with distance standout Cindy Bremser, also were selected among the top Drake Relays women athletes of the century.
Together, the group combined to win 31 individual Drake Relays titles, while setting seven Drake Relays records in the process.
Fans will have an opportunity to select the top moment in Drake Relays history by participating in a Drake Relays Madness pool, similar to the NCAA March Madness.
Drake Relays director Brian Brown explained that the bracket will contain 32 of the greatest moments from the meet and will be available on the Drake Relays Web site at www.drakerelays100.com.
After the cutoff date on Feb. 9, fans will vote weekly for their most memorable events with the winners each week moving onto the next round until a single event is chosen as the Drake Relays Most Memorable Moment. The grand prize winner will receive a prize package that includes a complimentary hotel room during Drake Relays weekend at the downtown Marriott Hotel, along with two all-session tickets to the Drake Relays, apparel and a Drake Relays champion watch.
"We want to share some of the history, legacy and destiny that have encompassed the 100 years of the Drake Relays," Brown said. "We want to make sure we remember our past and illustrious history."
All 20 Drake Relays Athletes of the Century will be honored during a gala event on Thursday, April 23, at the Drake Knapp Center.
Scott has run 136 sub-4 minute miles in his career, more than any other runner in history. He is best remembered for fulfilling a promise to run the first sub-4 minute mile in Drake Relays history in 1979 of 3:55.26 – a record that would stand for nearly 30 years.
The former American record holder became the first athlete to win races at three different distances at the Drake Relays, while claiming titles in the invitational 800 in 1980 and the invitational 5,000 in 1982. He also won the invitational mile at the 1981 Drake Relays. Scott was named the co-athlete of the Drake Relays quarter century (1960-84) with Mike Boit.
Janvrin, a native of Panora, Iowa, won nine straight Drake Relays decathlon titles from 1995-2003, setting a meet record with 8,198 points in 1996. Following his 15th Drake Relays decathlon crown in 2005, Janvrin announced his retirement.
But he came back to win the master's 800-meter run in 2006 and then set a meet record of 1:53.89 in 2007 at age 42.
Bremser, a former University of Wisconsin standout, was a pioneer in women's distance events at the Drake Relays winning the 1,500 six times (1979, 1981-85). She became the first athlete, man or woman, to win the same individual Drake Relays event six times, setting records in 1984 (4:12.46) and 1985 (4:10.89).
Acuff set a Drake Stadium high jump record in her first appearance at the Drake Relays in 2001 at 6 feet 3 1/4 inch. She also captured titles in 2004, 2005 and 2006 when she set a meet record at 6-4.