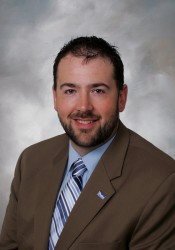 Blake Campbell
BLAKE CAMPBELL NAMED DIRECTOR OF ALUMNI, PARENT PROGRAMS
Blake Campbell, major gift officer for the College of Arts and Sciences at Drake, has been named director of alumni and parent programs for the University, effective Jan. 26.
Campbell, a graduate of the University of Northern Iowa, received his Master of Public Administration from Drake in 2005. He succeeds Barbara Dietrich Boose, who has moved to Des Moines University as director of publications.
A resident of Ankeny, Campbell began his career as senior programming director of the YMCA of Greater Des Moines. He joined Drake in 2002 as assistant director of alumni and parent programs and was promoted to advancement officer for the School of Education and School of Fine Arts.
He then went to Iowa State University, where he served as associate director of development. He returned to Drake as a senior advancement officer in 2006.
"It is a privilege and honor to serve Drake as its alumni director," Campbell said. "I look forward to partnering with our alumni, parents and students in building lifelong relationships with Drake University."
"Blake's collective experience provides a solid professional foundation upon which to build," said John Smith, vice president for alumni and development.
"Equally important, his professional enthusiasm, creativity, interpersonal skills, warmth, passion and character will enable him to enhance our Office of Alumni and Parent Programs and Drake University."
PLAN TO ATTEND DES MOINES WINTER BULLDOG BASH
Drake alumni are invited to put on their Drake Blue and join fellow alums for a Bulldogs Bash on Saturday, Feb. 7. The party will take place before the men's basketball team takes on Bradley University at 7:05 p.m. at the Knapp Center.
The celebration will begin at 4:30 p.m. at the West End Lounge, located on Forest Avenue near the Knapp Center. There will be pizza, camaraderie and a pre-game scouting report from Dolph Pulliam, FA'69.
This Bash is made possible by Scott Carlson, BN'93, and Pat Kelly, BN'91, co-owners of the West End Lounge and sponsored by the Central Iowa Drake Alumni Chapter.
For more information, call John Brown in the Drake Alumni office at 515-271-3378, or send an e-mail to
john.brown@drake.edu
.
To order game tickets, call the Drake Athletic Ticket Office at 515-271-3647.
DES MOINES GAME WATCH PARTY SET FOR MEN'S BASKETBALL GAME FEB. 18
Alumni and friends of Drake are invited to gather together at Buffalo Wild Wings at Jordan Creek Town Center, 6925 Mills Civic Parkway, to watch the Bulldogs take on the University of Northern Iowa Panthers on Wednesday, Feb. 18.
Tip-off is set for 7:05 p.m. from Cedar Falls. Door prizes also will be given away at halftime.
For more information, call 515-271-3378 or send an e-mail to John Brown at john.brown@drake.edu. This event is brought to you by the Drake University National Alumni Association.
Are you a member of the Bulldog Club? If not, now is a great time to join! For more details, call 515-271-2228.
FIVE OUTSTANDING ALUMNI HONORED WITH ALUMNI AWARDS
Drake and its National Alumni Association recently announced five outstanding alumni were selected to receive the 2009 Alumni Achievement Awards for their professional accomplishments, service and loyalty to the university.
The 2009 Alumni Award winners, who will be honored at the Annual Alumni Awards Dinner Saturday, May 16, are:
Jennifer Jacobs Henderson, JO'90,

Young Alumni Achievement Award. Jennifer is associate professor of communications at Trinity University in San Antonio. She also remains a staunch cheerleader for Drake and, according to her nominator, "bleeds blue."

Carrie Blumenfeld, JO'00,

Young Alumni Loyalty Award. Carrie is account director at Wunderman Chicago. She serves on Drake's Chicago Advisory Board. She has helped plan numerous Bulldog Bashes and has been an invaluable resource to current Drake students looking to map out career paths in Chicago.

Bill Bryson, LA'77,

Alumni Achievement Award. Bill is well-known for his great books and writings of various adventures during his life, and will deliver the spring Bucksbaum Lecture on April 2 on Drake's campus.

Joan Behrendt Middleton, ED'63, GR'77,

Alumni Loyalty Award. Joan has been an outstanding special education teacher and community volunteer. She and her late husband, Lyle, created an endowment for Drake's Joan and Lyle Middleton Center for Children's Rights and a substantial endowment for the Urban Education program.

Richard "Dick" Hartig, PH'73, GR'81,

Distinguished Service Award. Dick is the 2006 recipient of the Lawrence C. and Delores M. Weaver Medal of Honor, which is the highest alumni honor given by the College of Pharmacy and Health Sciences. As the third-generation owner of Hartig Drug, Dick has been recognized as an entrepreneurial leader in pharmaceutical care, emphasizing active patient care by pharmacists.
Nominations are reviewed and discussed by an ad-hoc committee from the National Alumni Board.
The winners will be celebrated at the annual Alumni Awards dinner, which is traditionally held in conjunction with Commencement weekend.
JOIN ALUMNI FOR THE RELAYS HALF MARATHON
Nearly 35 Drake alumni plan to run as a group in the 41stDrake Relays On-the-Roads half marathon at 8 a.m. on Saturday, April 25.
Additional alumni and students are invited to join the group.
For more information or to register for the race, visit
the race Web site or contact Doug Schaefer, AS'99, at douglasschaefer@hotmail.com.