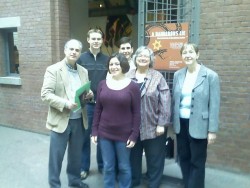 Aimee Beckmann-Collier accompanied Drake singers (Jess Hoffert, Jessica Shalita, Susan Wickham) at the Holocaust Museum with Mark Finkelstein of the Jewish Federation of Greater Des Moines and Ann Millin with the National Institute for Holocaust Education
CONTACT: Tory Olson, 515-271-1834, tory.olson@drake.edu; Aimee
Beckmann-Collier, 515-271-2841, aimee.beckmann-collier@drake.edu

Composer Stephen Paulus and Librettist Michael Dennis Browne
— the artists behind the Holocaust memorial oratorio, "To Be Certain of
the Dawn" — will discuss the piece in a presentation at Drake University
on Tuesday, Jan. 27.
The discussion, which is free and open to the public, will
be offered twice from 3:30 to 5 p.m. and 6:30 to 8 p.m. in Sheslow Auditorium
in Old Main, 2507 University Ave.
Paulus and Browne's presentation will preview the oratorio
that will be performed later this spring by Drake musicians, including those
who recently visited the United States Holocaust Memorial Museum in Washington,
D.C. The trip was sponsored by the Jewish Federation of Greater Des Moines,
which will co-sponsor the April performance of the oratorio.
"To Be Certain of the Dawn" was commissioned by
Rev. Michael O'Connell and the Basilica of Saint Mary in Minneapolis as a gift
of healing to the Jewish community and as a witness to the importance of
teaching about the Holocaust.
The work was written in commemoration of the 60th
anniversary of the liberation of the Nazi death camps and the 40th anniversary
of the promulgation of "Nostra Aetate" (In Our Times), an important
Christian document, which condemned the centuries-long tradition of teaching
contempt for Jews. It was premiered in November 2005 by the Minnesota
Orchestra, which recently has recorded the work.
"It's a powerful piece of music," said Drake's
Director of Choral Studies Aimee Beckmann-Collier. "The work presents many
possibilities not only for learning about the Holocaust, but also for
reflection on our role as present-day global citizens in making choices about
whether or not we'll involve ourselves in confronting the hatred, exclusion and
genocide that afflict people around the world."
On Sunday, April 19, Beckmann-Collier will conduct a
performance of the oratorio presented by four Drake choruses, a faculty and
student orchestra, members of the Heartland Youth Chorus and soloists at the
Civic Center of Greater Des Moines. The concert will begin at 3 p.m., with a
pre-concert talk by Paulus and Browne at 2 p.m. in the East Lobby.
Tickets are $7 for students and $15 for non-students and
adults. They are available at the Civic Center Box Office at 515-243-1888 or
the Drake Fine Arts Box Office, 515-271-3841.
The Jan. 27 discussions by Paulus and Browne are the first
in a series of presentations sponsored by the Drake choral program and are designed
to extend learning for both oratorio participants and all those who are
interested in the Holocaust and related issues.
For further information, contact Beckmann-Collier at 515-271-2841
or aimee.beckmann-collier@drake.edu.