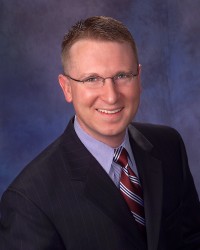 Micah Craven of Dardis Communications will present the opening seminar.
MEDIA CONTACT: Assistant Dean Danette Kenne, 515-271-4017, danette.kenne@drake.edu
A new seminar series at Drake University aims to help people cope with the current economic turmoil — whether they're laid-off workers seeking jobs or employees striving to keep their jobs.
The Center for Graduate and Professional Studies in Drake's College of Business and Public Administration organized the series of three half-day seminars to help Des Moines-area residents cope with the continuing recession.
"We're focusing on practical ways that people can strengthen their skills, conduct effective job searches and explore opportunities to start businesses," said Tom Root, associate professor of finance at Drake.
The series, which begins Feb. 6, is titled "The Things You Know and The Places You'll Go." Each session costs $10 and the cost for the entire series is $25. All of the sessions will begin at approximately 8:30 a.m. in Aliber Hall, 2847 University Ave.
The seminars, co-sponsored by Dardis Communications Inc. of Chicago and Des Moines, will cover the following topics:
Feb. 6 —Essentials of Communication — Present and Deliver in a Dynamic Fashion. Micah Craven, vice president of Dardis Communications, will discuss the power of clearly organizing one's thoughts, how to communicate with impact and how to present effectively at a dynamic level.



March 6 —Strategic Positioning — Effectively Navigating The Job Market in 2009. Career Resources Group of West Des Moines will present the opening and concurrent sessions. Mary Gottschalk, owner of MCG Strategic Services in Des Moines, will give the closing address, titled "Never Waste a Crisis."
March 27 —Uncovering Opportunities — Entrepreneurship Here! How! Now! Speakers will include Leisa Fox of the Iowa Association of Business and Industry; Lori Day of FocusFirst; Doug Lewis of the Iowa Department of Economic Development; Mike Wagner of White Rabbit Group; and Tom Swartwood of both The Pointer Group LLC and Swartwood Hesse Inc.
Additional information and registration is available online. For questions, call 515-271-2592.
Dardis Communications helps individuals and businesses reach their strategic goals through effective communication. The company gives its clients a competitive edge by providing them with the skills they need to consistently lead, influence and inform others.