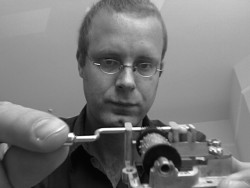 Graham Foust
MEDIA CONTACT: Tory Olson, 515-271-1834,
tory.olson@drake.edu
Poet and former Drake faculty member Graham Foust will read
selections from his poems and discuss creative writing on Monday, Feb. 2, as
part of Drake University's Writers and Critics Series.
The event, which is free and open to the public, will begin
at 7:30 p.m. in the Cowles Library Reading Room, 2725 University Ave.
Foust is the author of three books of poems: "As In
Every Deafness," "Leave the Room to Itself," and "Necessary
Stranger."
He teaches in the undergraduate English and graduate
creative writing programs at Saint Mary's College of California. He also
directs the Master of Fine Arts program in creative writing.
Born in Knoxville, Tenn., and raised in Eau Claire, Wis.,
Foust also taught at Drake as an assistant professor of English from 2002 to
2005.
He received a bachelor's degree in English and creative
writing from Beloit College and a master's in creative writing (poetry) from
George Mason University. He also received his Ph.D. in English from the State
University of New York at Buffalo in 2002.
The schedule for the remainder of the spring series appears
below:
Feb. 24 — Poet Natalie Diaz, 7:30 p.m., Cowles Library
Reading Room.

April 1 — Pablo Medina, author of five collections of
poetry, three novels, a memoir and a book of translations, 7:30 p.m., Cowles
Library Reading Room.

April 18 — Des Moines National Poetry Festival: Carolyn
Forché, author of four books of poetry, 7:30 p.m., Sheslow Auditorium, Old
Main, 2507 University Ave.

The Writers and Critics Series is sponsored by the Drake
English Department and made possible by a grant from the Drake Center for the
Humanities. For more information, contact Jennifer Perrine at 515-271-4161 or
jennifer.perrine@drake.edu.