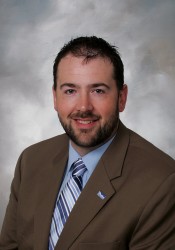 Blake Campbell
CONTACT: Lisa Lacher,
515-271-3119, lisa.lacher@drake.edu
Blake Campbell, major gift officer
for the College of Arts and Sciences at Drake University, has been named
director of alumni and parent programs for the University, effective Jan. 26.
Campbell, a graduate of the
University of Northern Iowa, received his Master of Public Administration from
Drake in 2005. He succeeds Barbara Dietrich Boose, who has moved to Des Moines
University as director of publications.
A resident of Ankeny, Campbell
began his career as senior programming director of the YMCA of Greater Des
Moines. He joined Drake in 2002 as assistant director of alumni and parent
programs and was promoted to advancement officer for the School of Education
and School of Fine Arts.
He then went to Iowa State
University, where he served as associate director of development. He returned
to Drake as a senior advancement officer in 2006.
"It is a privilege and
honor to serve Drake as its alumni director," Campbell said. "I look
forward to partnering with our alumni, parents and students in building
lifelong relationships with Drake University."
"Blake's collective
experience provides a solid professional foundation upon which to build,"
said John Smith, vice president for alumni and development.
"Equally important, his
professional enthusiasm, creativity, interpersonal skills, warmth, passion and
character will enable him to enhance our Office of Alumni and Parent Programs
and Drake University."