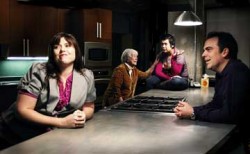 From left to right: Karla Kash, Jeanne Hopson, Elisabeth Ballstadt and Aaron Harpold rehearse "Rabbit Hole."
Two Drake University theatre faculty members will be featured in
StageWest's production of the Pulitzer Prize-winning play, "Rabbit
Hole," which opens Friday, Jan. 30, in the Stoner Theater at the Civic Center of Greater Des Moines.
Deena Conley, associate professor of theatre arts, will
direct the play, and Karla Kash, assistant professor of theatre and a member of
Actor's Equity Association, will perform in the five-member cast.
"Rabbit Hole" will run from Friday, Jan. 30,
through Sunday, Feb. 1, and Wednesday, Feb. 4, through Sunday, Feb. 8. Show
times are: 7:30 p.m. on Wednesday through Saturday and 3 p.m. on Sundays.
Nominated for five Tony Awards including Best Play,
"Rabbit Hole" tells the story of a suburban American family that has
everything they could want until an accident turns their world upside down and
leaves the couple drifting apart.
StageWest Theatre Company is the resident theatre company of
the Civic Center. More information about the play is available online.